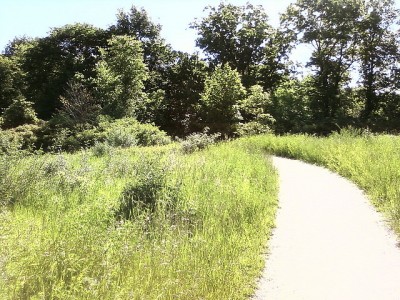 The public is invited to join Sleepy Hollow State Park, along with the Sleepy Hollow Trail Riders Association, to celebrate the expansion of the park's trail system. The ribbon cutting ceremony is scheduled for noon on Saturday, Nov. 5. The event will take place at the new South Loop trailhead adjacent to the equestrian staging area. The park is located at 7835 E. Price Rd. in Laingsburg in Clinton County.
A portion of the new trail is reserved for multiple non-motorized uses such as equestrian, mountain biking and hiking. A second lakeshore section of the new trail is restricted to equestrian use and hiking.
The trail addition will be open for winter activities such as cross-country skiing and snowshoeing. A portion of the trail will be available for snowmobiling. The new trail is over three miles in length and connects to 6.5 miles of equestrian trails and 11 miles of biking and hiking trails. The new trails provide an expanded opportunity for outdoor enthusiasts to enjoy all that Sleepy Hollow has to offer.
Both the multi-use and equestrian trail sections were developed and funded through the financial and volunteer support of the Sleepy Hollow Trail Riders Association (www.shtra.org).
Refreshments will be served following the ceremony. Admission to the event is free; however, a Recreation Passport is required for vehicles entering Sleepy Hollow State Park.
The Recreation Passport has replaced motor vehicle permits for entry into Michigan state parks, recreation areas and state-administered boating access fee sites. This new way to fund Michigan's outdoor recreation opportunities also helps to preserve state forest campgrounds, trails, and historic and cultural sites in state parks, and provides park development grants to local communities.
Michigan residents can purchase the Recreation Passport ($10 for motor vehicles; $5 for motorcycles) by checking "YES" on their license plate renewal forms, or at any state park or recreation area. Nonresident motor vehicles must still display a valid nonresident Recreation Passport ($29 annual; $8 daily) to enter a Michigan state park, recreation area or state-administered boating access fee site; these can be purchased at any state park or recreation area, or through the Michigan e-Store at www.michigan.gov/estore. To learn more about the Recreation Passport, visit www.michigan.gov/recreationpassport or call 517-241-7275.
The Michigan Department of Natural Resources is committed to the conservation, protection, management, use and enjoyment of the state's natural and cultural resources for current and future generations. For more information, go to www.michigan.gov/dnr.