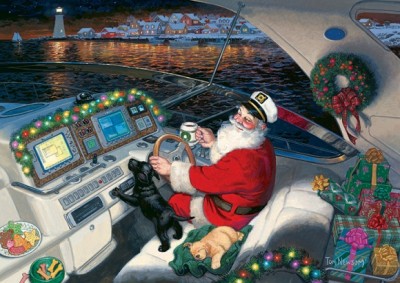 Annapolis, MD., October 26, 2011 – Looking for nautical-themed holiday cards? Try the selection from the BoatUS Foundation for Boating Safety and Clean Water and you'll help make boating safer and water cleaner by supporting the non-profit's programs – and get some freebies with your order including return address labels and decorative envelope seals. To order, go to www.HolidayCardCenter.org/boatcards.
Powerboat, sailboat, marina, lighthouse, and beach scenes are all available – as well as traditional Santa and religious-themed cards. All of the holiday cards offer personalized messages inside and some even allow you to imprint your boat's name directly on the transom on the boat depicted on the front of your card.
All cards use Sustainable Forestry Initiative certified paper and vegetable-based EcoSmart inks and all are proudly made in the USA. Notecards, puzzles and ornaments are also available. Most orders take between five and ten business days to arrive with standard shipping. Expedited shipping is also available.
A portion of each sale goes to support Foundation programs such as the free Kid's Life Jacket Loaner Program, boating safety and clean water Grassroots Grants Program, clean marina and fishing line recycling programs, and educational tools like the free Online Boating Safety Course and online navigation games. For more, go to www.BoatUS.com/Foundation.
About the BoatUS Foundation:
The BoatUS Foundation for Boating Safety and Clean Water is a national leader promoting safe, clean and responsible boating. Funded primarily by the half-million members of BoatUS, it provides innovative educational outreach directly to boaters and anglers with the aim of reducing accidents and fatalities, increasing stewardship of America's waterways and keeping boating safe for all. To make a tax-deductible donation to this 501(c)(3) nonprofit, go to www.BoatUS.com/foundation.