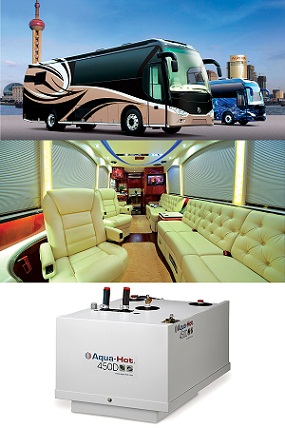 World-renowned for its ability to provide warmth and convenience to RV cabins, Aqua-Hot Heating Systems are now offered on King Long Coaches.  The Aqua-Hot 450-DE will be standard equipment on the company's 12m and 13.7m luxury coaches, as well as optional on its 10m and 10.7m business VIP coaches.
"We decided to offer Aqua-Hot Systems because we'd like to introduce world-class comfort to our customers in China," said Tony Shum, VP of King Long Coach.  "The customers like the Aqua-Hot systems very much.  They provide warm, but not dry, air flow, hot water and make it easier for an engine to start in cold winter weather, which is ideal for northern China."
"The Aqua-Hot 450-DE will be installed in our new show coach this November for the Guangzhou Car Show.  It's the second biggest car show in China," said Shum.
The self-contained Aqua-Hot 450 is able to use power from three different sources: recycled heat from the engine while driving, shore power when available and diesel fuel anytime.  Providing an unlimited supply of on-demand hot water, quiet and cozy interior heat, and fast diesel preheating, Aqua-Hot improves the comfort of people on the move.
Environmentally-friendly, the Aqua-Hot 450 employs advanced technology that virtually eliminates emissions and exhaust odor.
Established in 1988, with headquarters in Xiamen, China, King Long is involved in the research, development, manufacturing and marketing of large and medium-size buses and coaches.  The company has manufactured more than 200 kinds of products ranging from 4.5m to 18m vehicles, which include touring buses, coaches, buses, passenger cars and special vehicles.
Contact Aqua-Hot Heating Systems, 15549 E Hwy 52, Fort Lupton, CO 80621.  Toll free: 800-685-4298 or 303-659-8221; Fax: 303-857-9000.  [email protected]; www.aqua-hot.com.