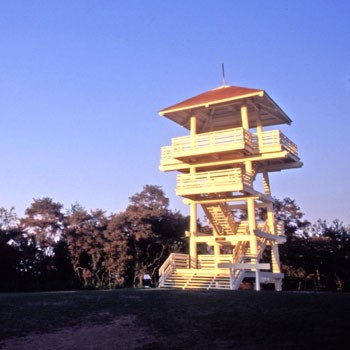 Pipestem, W.Va. – Pipestem Tower will be renamed "Bolar Lookout Tower" at Pipestem Resort State Park on Wednesday, Oct. 19. A simple dedication in honor of the sixth superintendent of the park, Steve Bolar, will be held at 1 p.m. at the tower.
"Steve was a leader in our state parks system with a genuine understanding of park operations and public service," said Brad Reed, district administrator for West Virginia State Parks. "He was a mentor to many park employees during his career, including me. He is missed."
Several members of the Bolar family, as well as several members of his parks family, will be in attendance to honor his life and career. Bolar lost his battle with a terminal illness in July 2009. The ceremony is open to the public. Steve Bolar was the recipient of the 2009 Distinguished West Virginian Award. He also worked at Beech Fork, Holly River and Canaan Valley State Parks in his 32 years of service.
The observation tower at Pipestem sits at 3,000 feet in elevation and commands a scenic view of the Pipestem area. Located near the park entrance, the tower is accessible via the Pipestem Knob Trail which is .2 miles one-way, paved and rather steep.
Pipestem State Park is located in Summers County with park access from state route 20 between Athens and Hinton. The park features two lodges, two golf courses, riding stables, winter activities, multiple hiking and biking trails, game courts, fishing, lake activities, a nature center, an outdoor and indoor swimming pool, and three restaurant areas. Special events and nature activities are schedule throughout the year.
For more information about Pipestem Resort State Park, visit www.pipestemresort.com. For Bolar Lookout Tower dedication information, call Dave Caplinger at 304-466-1800.