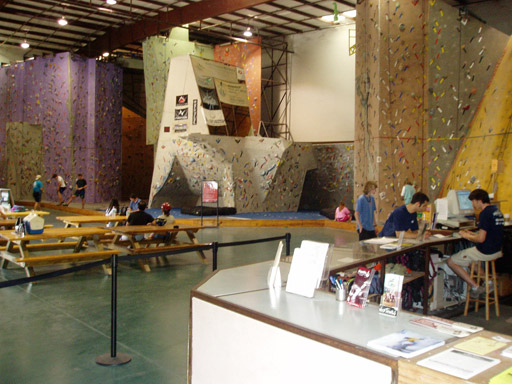 Agoura Hills, Calif., October 17th, 2011 —  Gramicci, the legendary climbing apparel brand with NPT- Natural Performance Technology ™was happy to help the Aiguille Rock Climbing Center's ABS 13 Competition with added gear to give! The competition took place in Longwood, Florida on October 1st. The competition offered talented climbers of all ages to participate, from the youngest in the Youth-D division of USA climbers to the Masters competitors (45+).
Eager climbers took on the challenge of 50 brand new boulder problems set by national route setter Mark Mercer as well as David Carmona, Aubrey Wingo, Eugene Hoberg, Jackson Clemmer and Jesse Falcon.
Greeted with the first cool weather of the season, Aiguille welcomed its competitors first thing in the morning to pick up their Gramicci goodies, other sponsor items, and comp shirts, designed by Guillermo Casanova (http://guillermo-casanova.com/), and to start strategizing their climbs for the day. Rules were announced and the climbing began along with musical motivation from Aiguille's DJ, JSHIH. The walls were littered with color from hold designers E-Grips, Rock Candy, Project and many more – some brand new out of the box for the climbers to test for the first time.
"In addition to the climbers, the gym was filled with many who were not climbing; supportive parents from Team Aiguille and other gyms cheering on their kids, volunteer spotters from the Aiguille member family and Aiguille staff members making sure the comp ran smoothly. There were flashes and falls, sends and sore tips; overall, a fantastic show of athletic performance, good sportsmanship, and well-executed competition," explains Aubrey Wingo, Membership and Program Director of Aiguille Rock Climbing Center, describing the positive atmosphere at the event.
Jim Norton, the regional representative for USA Climbing, tallied the scores while the tired competitors waited patiently for the results, and raffle prizes provided by the sponsors were given away to several lucky winners. Following the raffle the winners of the competition were announced, receiving their very own ABS USA Climbing ribbon and compilation prize packs from the sponsors. Top awards received their own Gramicci shirts, Bluewater climbing rope, Mad Rock Climbing shoes, Climb On! gift set or even a free month membership at Aiguille. Every one of the winners are now also proud owners of their very own La Sportiva Coozie and Yowie by Outdoor Technology as well as many other great prizes.
Winners will be announced soon on Aiguille Rock Climbing Center's Facebook page (www.facebook.com/aiguilleclimbing) and USA Climbing's website (www.usaclimbing.org).
About the Aiguille Rock Climbing Center:
Aiguille Rock Climbing Center is Orlando's premier indoor climbing gym. Aiguille provides climbing lessons for both kids and adults, team building programs for businesses or groups, yoga classes, a portable climbing wall that can be rented and transported to almost any location, and an ideal environment for both beginning and veteran climbers. Each month Aiguille offers a slew of events from annual local and national climbing competitions, "Hero Days" where the cost of climbing for individuals working in public service jobs is reduced, game nights, and other fun, challenging events and activities. Visit the Aiguille website to find out more: http://www.aiguille.com/home/index.shtm
About Gramicci
Gramicci is often called the 'soul brand' of the outdoor industry, known in the climbing community as the originator of the iconic G-series climbing pant and short. Thirty years later Gramicci is still setting the standard for performance climbing and outdoor apparel with its introduction of NPT- Natural Performance Technology ™, a pesticide-free, certified organic and hemp blend that naturally produces higher levels of moisture management, breathability and body temperature regulation than synthetics or the new performance cottons that are treated with environmentally harmful chemicals. Gramicci is deeply committed to greener manufacturing. It is developing and adopting new standards of manufacturing that substantially reduce its impact on the environment by using less water and energy. Its organic products have received certification from GOTS (Global Organic Textile Standard), OE Blended (Organic Exchange for blended fabrics) and OE 100 (Organic Exchange for all organic fabrics). Gramicci is also a fair labor manufacturer assuring fair wages, clean work environments and zero-tolerance child labor policies. For more information visit www.gramicci.com.
Media Contacts: Beth Cochran, What's Up PR (406) 579-7909, [email protected].