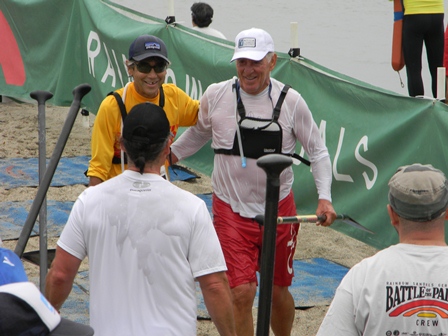 All VestPacs now come with a new and much improved 1 Liter hydration reservoir.  (The Pacs can hold a much larger reservoir if the user so desires; endurance athletes are squeezing 100 oz reservoirs in their Pacs.)   The new reservoirs are made of a heavy duty, food grade, puncture resistant material.  They have a large opening for easy filling and adding ice as well as easy cleaning.  The hose and mouthpiece are high flow and the bite valve has a 360 degree opening for quick hands free access.  A versatile clip is included to allow you to pin the hose to your Pac, collar, or anything else.  Every Pac comes with a spare replacement hose to increase longevity.
The new hydration bladders were unveiled to the fast growing SUP (Stand Up Paddle) community first, as VestPac recently attended the Surf Expo in Orlando, Florida and California's Battle of the Paddle, where many of the top competitors were wearing VestPacs. Event sponsors Gerry Lopez (aka Mr. Pipeline) and Jay "Sparky" Longley crossed the finish line wearing their VestPacs and Women's Champion Candice Appleby was also sporting a VestPac on the podium.  Many other top finishers were seen using the product.  VestPac's combination of water friendly materials and breathable comfort make it ideal for all water sports, and by adding a waterproof phone case it becomes an essential for safety.
Inspired, designed and made in Wyoming, the modular gadget pack system features a breathable 3-D Airmesh material to keep the wearer comfortable whether worn under a ski jacket or over a t-shirt while biking, hiking, riding or kayaking.  A variety of interchangeable front pockets hold personal electronics and small items and attach to the hydration back with comfortable elastic straps which help distribute water weight between shoulders and waist.  The DriftPac model is designed specifically for fishing, with a chest pocket that folds open to easily access interchangeable fly and lure boxes attached with Velcro right where they are needed.
VestPac has recently been in the news for winning "Best of Show Fly Fishing Accessory" at the prestigious ICAST Show in Las Vegas, on YakAngler.com for kayak fly fishing, on the endurance horse racing circuit, and running events around the country.
VestPac products are currently available at select dealers throughout the US and online at www.VestPac.com.  All VestPac models feature interchangeable modules, making them a great gift for any active recreationalist.  Photos and video of various uses for the VestPac can be found at www.VestPac.com and on Facebook.