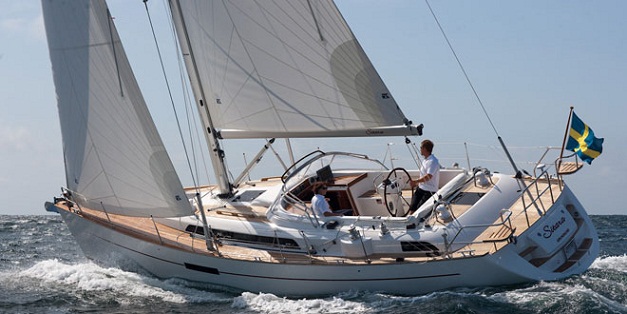 During the last fiscal year, Najadvarvet produced 25 high-quality sailing yachts and also had a significant level of service activity at the facilities in Henån on Orust. North West operates on nearby Vindön and last year they manufactured 37 high-quality motor boats.
Nord West foresees significant synergies resulting from the merger. The companies have the same industrial base and have grown out of the craftsmanship and maritime expertise established in Orust over generations.
" We are very pleased that we are finally able to acquire Najad " says Benny Martinsson, founder and owner of Nord West. " We look forward to continuing to expand Najadbåtar and we see tremendous potential in Najad, which has a complete and modern product range of boats between 35 and 57 feet and an extensive service organization. Both Nord West and Najad maintain a very high standard of construction and are focused on providing world class service ."
Najad's harbour facility has been managed by Claes Samuelsson for many years and he will now work with entrepreneur Bertil Karlsson to make an even greater effort in the areas of winter storage, servicing and insurance repairs in Henån in order to meet customers' wishes for a comprehensive solution for boat users.
Najadvarvet was founded in 1971 and has manufactured over 2,000 yachts. The company became bankrupt after a vigorous expansion in 2005-2007, during which the company's product development, investments and sales doubled. After the peak year of 2007, when sales exceeded SEK 300 million, the company was hit by the financial crisis in 2008, when sales fell sharply. Despite significant capacity reductions, the company was forced to file for bankruptcy in early August 2011.
The new owners wish to sincerely thank the lawyer Jan Save from the law firm Hammer, lawyer Lars Zetterberg and his colleagues at the consultancy Ackordscentralen and also Najadvarvet's previous owner, Animatrix Capital, for their professional work to close the deal, thereby safeguarding Najad's long-term future and the possibility of regain its position as one of the world's leading yacht manufacturers along with Nord West.
Nord West was founded in 1985 by Benny Martinsson and has 130 employees. Sales last year amounted to about SEK 360 million. The company is family owned and consists of boat building and maintenance at Vindön/Orust, as well as a facility in Lysekil for hull construction and plastic fittings. Today the boatyard is one of the most modern in Sweden and sells boats around the world.
According to Claes, the work of winter storage has already started and, if you have not yet decided where to service your boat this winter, both motor boats and yachts are welcome at Orust Yacht Service. Benny explains that new boat production will begin shortly, and the team looks forward to re-launching Najad at the autumn boat shows in Hamburg and Stockholm.