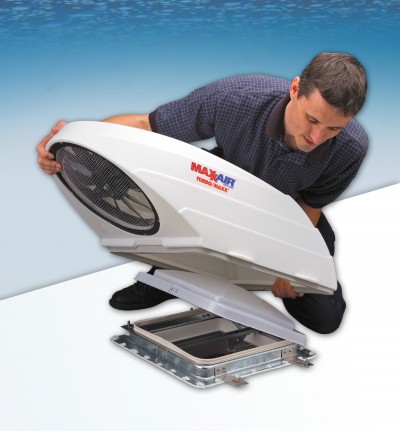 Those in need of a reliable ventilation fan without the hassle of time-consuming installation can look no further. MaxxAir Vent Corporation's Turbo/Maxx fits over an existing roof vent, transforming it into a powerful ceiling fan. This enables RVers to enjoy airflow even when it rains.
A quiet, three-speed fan offers a selection of intake or exhaust operation to remove musty air, smoke or other odors, while preventing heat build-up. Turbo/Maxx operates with a 4-amp motor and 12″ diameter, 10-blade fan. The Model 1200T with thermostat helps keep a consistent temperature and controls the fan to turn on and off as needed.
With MaxxAir's hinge open mounting system, Turbo/Maxx attaches directly to an existing 14″ x 14″ standard roof vent. Owners do not need to remove the existing vent or drill holes in their roof deck. The translucent white rain cover is constructed from high-strength polyethylene with UV inhibitors and is designed for years of use.
MaxxAir Vent Corporation's Turbo/Maxx Model 1200T has a price of $312.95 and comes with a two-year limited warranty. A non-thermostat model 3550 with the same powerful fan and motor and standard 3-speed fan selector switch is also available for $279.95.
Contact MaxxAir Vent Corporation, 5513 W. Sligh Ave., Tampa, FL 33634, USA. 800-780-9893; Fax: 813-876-2550. [email protected]; www.maxxair.com.