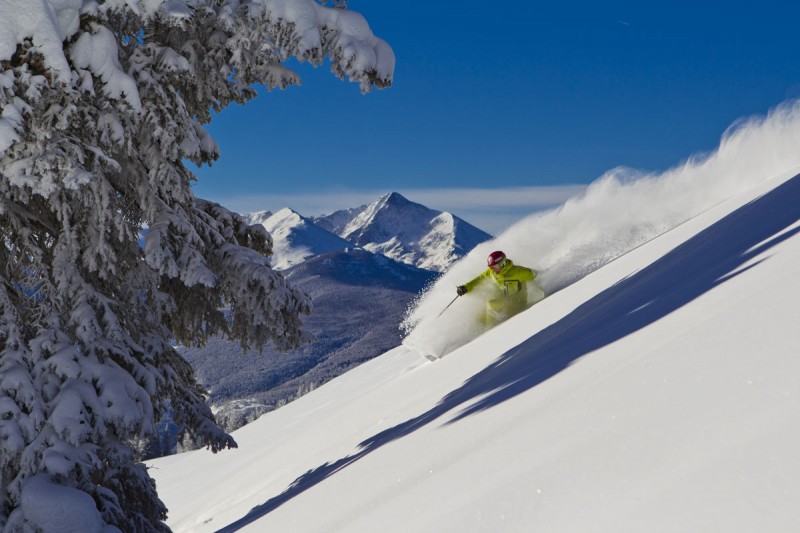 The first annual Winter Teva® Mountain Games presented by Eddie Bauer (WTMG) will award $60,000 in cash prizes to the top pro and amateurs competing in a dozen human-powered adventure sport competitions. This on-snow version of the decade-old summer Teva Mountain Games will be held February 10 – 12, 2012, in Vail, Colorado.
"In partnership with Teva, Eddie Bauer and Vail, we've built upon the success and great reputation of the summer Teva Mountain Games with a complimentary event that celebrates winter adventure sports, music and the mountain lifestyle," says Mike Imhof of the Vail Valley Foundation, organizers of the event.
On-snow bike events include the Teva Dual Slalom Bike, Teva On-Snow Bike Crit and on Saturday evening, the Teva Best Trick presented by Thule, boasting a $10,000 prize purse. In this unique event, freeride mountain bikers huck themselves off a massive snow feature, scoring points for big air, trick difficulty and distinctive style. Making this a dual-action event, the Teva Best Trick Bike competition will be run simultaneously with the Thule Telemark Big Air event in Golden Peak at the base of Vail Mountain.
The Eddie Bauer Ski Mountaineering (skimo) competition, an extreme uphill and downhill tour of Vail Mountain, boasts a $5,000 prize purse, the largest ever presented at a U.S. Ski Mountaineering Association-sanctioned race. "Keeping in line with Vail's reputation as a world-renowned ski destination, we designed a challenging course with the kind of distance, vertical, ski terrain and prize money that rival the prestigious European skimo races," says Pete Swenson, director of the U.S. Ski Mountaineering Association and Specialist for the Mountain Games.
The skimo race is part of the Ultimate Mountain Challenge (UMC), a three-day, three-discipline competition in which athletes vie for the titles of Ultimate Mountain Man and Woman, along with cash awards. The other two UMC events are the Nordic Freestyle 10k and the Vail Uphill, a 2,200-foot ascent of Vail Mountain (finishing above 10,000 feet in elevation) using either snowshoes, Nordic skis, randonné gear or other traction device.
The Eddie Bauer Mixed Climbing competition also promises one of the biggest payouts of the WTMG–$8,000 across all divisions. This a fast-paced, spectator-friendly event sees climbers use ice tools to ascend a 50-foot wall in a head-to-head extreme test of power, endurance and agility.
Other events include the X-Country Snowshoe 5k or 10k run, the Eddie Bauer Boot Run, Eukanuba Dog demos and the Seven Wonders of Vail presented by GoPro, where skiers and riders test their strength and strategy by completing runs on all seven of Vail Mountain's world famous Back Bowls in one day.
In addition to the athletic competitions, this mountain-lifestyle festival includes the Bud Light Mountains of Music free outdoor concert series, the Mountain Click Photo Comp, Outdoor Reels film series and after parties throughout Vail Village.
Registration and lodging information will be available in November 2011. The Winter Teva Mountain Games presented by Eddie Bauer are a project of the Vail Valley Foundation. Find more information at www.tevamountaingames.com, @TevaMtnGames on Twitter and Teva Mountain Games on Facebook.
Photo: Jack Affleck