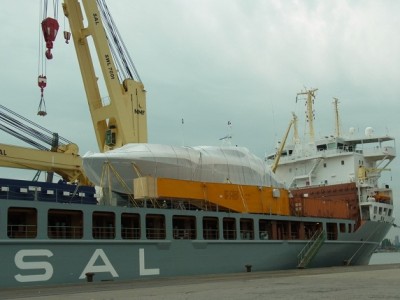 Peters & May have successfully shipped two large Sunseekers to Hong Kong in the past few weeks, after the two super yachts took very different journeys from the Sunseeker factory in Poole, UK. These shipments demonstrate that Peters & May, being completely independent of any carrier association, can offer its clients shipping opportunities that meet both their budgetary requirements and most importantly in these cases, their date expectations.
The first to arrive was a Sunseeker Predator 115, a new edition to the Predator range, which became the largest boat ever to be transported under deck on a container vessel. Floating cranes were used to load the 135 tonne yacht from the water to the container vessel, where it was stored below deck, away from any risk of damage by the elements during transit.
The second yacht, a Sunseeker Predator 130, the largest in the Predator range, was shipped directly to Hong Kong on a break bulk vessel. Using the ships own lifting gear the 145 tonne yacht was loaded onto a Peters & May cradle and shipped to Hong Kong,  where it was discharged to the water by Peter & May Loadmasters. This shipping option not only reduces the transit time but also eliminates the risk of incidents caused by the loading and discharge of other cargo.
Peters & May has always, and will continue to offer its clients both liner and part charter options using carriers and contractors that meet both the expectation of its clients and also the service levels that warrant the reputation of the Peters & May brand.
For more details about these shipments, or information about our other bespoke boat transport services please contact Peters & May on +44 (0) 2380 480 500, or email [email protected].
Company Profile
Peters & May has over 30 years' experience in global boat transportation and freight forwarding via air, road, rail and sea from a global network of offices and exclusive agencies.  The company ships on average 8,000 vessels each year through more than 150 ports in over 60 countries.
Peters & May is the preferred transporter for many of the leading marine manufacturers and associated businesses, including Sunseeker, Viking Yachts, Correct craft & the UIM and regularly works with Beneteau, Oyster, Lewmar, Fairline Boats, Henri Lloyd, Lagoon and many others. For more information regarding the company, please visit www.petersandmay.com.