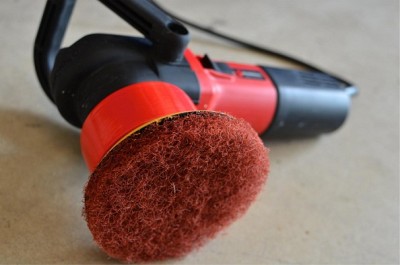 Now, owners can powerfully clean their RV without exhausting themselves.  Shurhold's new Scrubber Pads turn the company's Dual Action Polisher into an aggressive power scrubber.  These Pads are compatible with all types of surfaces.
There are three varieties of Scrubber Pads.  A fine, white pad is best for delicate surfaces and light cleaning of teak or non-skid surfaces.  The blue version is ideal for medium-duty cleaning and scrubbing of teak or other surfaces.  A coarse, brown pad is great for heavy-duty maintenance, stripping and paint preparation.
All pads are designed to easily fit Shurhold's Dual Action Polisher.  Pads are sold individually and cost $6.88.
Shurhold is dedicated to educating owners on RV value preservation.  Inventor of the One Handle Does It All system, Shurhold manufactures specialty care items and accessories to clean, polish and detail.
Contact Shurhold, 3119 SW 42nd Ave., Palm City, FL 34990.
800-962-6241; Fax: 772-286-9620.  www.shurhold.com/rv.