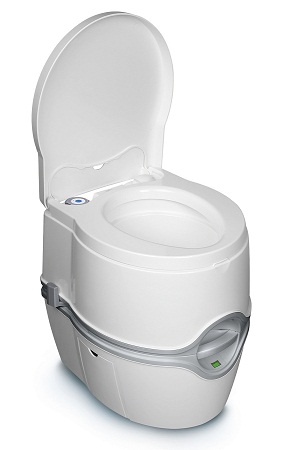 Thetford Corporation, the company that introduced the original Porta Potti® in 1968, will preview the next generation of stylish and comfortable portable toilets at the International BoatBuilders Exhibition and Conference (IBEX) 2011.  From the brand new Curve to the Porta Potti 260 Marine, Thetford's entire Porta Potti offering has been revamped.
Thetford's new Porta Potti Curve features a user-friendly, battery-powered flush to complement its sleek, modern and home-like design.  A raised seat height and increased bowl size create a more comfortable and relaxed sitting position.  Controls are hidden to keep them in safe, working order and maintain a smooth appearance.  An integrated toilet paper holder ensures the ultimate in convenience.  Fresh and waste water tanks can be easily monitored with a simple check of the easy-to-read level indicators.  The Curve also features an improved water tank carrying handle for easy transportation.
In addition to the brand new Curve, Thetford's entire Porta Potti offering has been revamped.  The line now features a refreshed, modern appearance with a cleaner cover and seat design.  A more ergonomic carrying handle simplifies transportation and a now standard lid latch prevents any accidental spillage.  All models also offer a redesigned valve handle, fill cap and pump.
While Thetford is dedicated to innovation, the company knows when to stick with ideas and products that work.  Along with the new features the Porta Potti range still provides the same industry-leading performance.  Fresh and waste water tank sizes remain unchanged and the toilets continue to feature an exclusive, rotating pour-out spout.  A deodorant sample is included with every Porta Potti, as usual.
Thetford's Curve Porta Potti and improved Porta Potti line-up will debut to consumers this January.
Headquartered in Ann Arbor, Michigan, Thetford Corp. is the world's leading supplier of sanitation and refrigeration products for the recreational vehicle, marine and heavy-duty truck industries.  Thetford is a privately-held company with eight manufacturing facilities in four nations.
Thetford subsidiaries include Norcold, America's leading manufacturer of gas-absorption refrigerators and freezers for the RV, marine and truck markets; Tecma, a producer of fine-china toilets and powerful waste-transfer systems based in Italy; and Spinflo, a unit in England that manufactures high-quality cooking and heating appliances as well as accessories.
Contact Thetford Marine, 7101 Jackson Road, Ann Arbor, MI 48103. Toll-free 800-543-1219 or 734-769-6000;  Fax: 734-769-2023.  [email protected];  www.thetford.com.