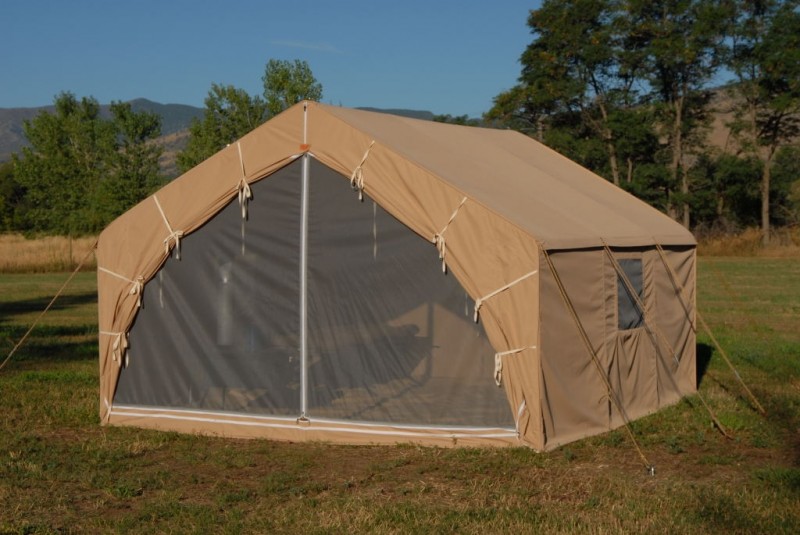 Denver, CO – Just in time for the fall hunting seasons, Denver Tent announces the availability of their new WeatherMax® wall tent for outdoorsmen.  The Colorado Lodge Tent has been uniquely designed for luxury and comfort by incorporating the revolutionary WeatherMax® fabric, which was originally developed for the U.S. military.  The Colorado Lodge Tent has been successfully field tested under the most extreme weather conditions that sportsmen would expect to experience.  The tents are very water resistant, yet breathable.  If needed, the tent cleans up easily with soap and water.
Over 100 years of tent making experience has gone into The Colorado Lodge Tent construction.  The best of traditional manufacturing techniques and hand-made craftsmanship have been combined with state-of-the-art materials to create a tent with exceptional strength, durability, breathability, mildew resistance, and UV color retention.  This winning combination gives you the ideal hunting outpost shelter that you've been looking for all these years.  Standard sizes for the Colorado Lodge Tent are 10'X15', 12'X15' and 16'X20' dimensions but custom sizes are also available.  Additional features such as extra doors, windows, and screens can be added.  The tents are easy to set up, yet weigh about 30% less than standard canvas tents thus making them a perfect choice for outfitters or the self-guided DIY hunter on horseback or vehicle-accessible hunts.
If you're serious about outdoor adventure, this tent is guaranteed to outperform any other tent on the market.  Denver Tent is so confident in the Colorado Lodge Tent's ability to stand up to the most rugged environments, whether it's a week or many months in the sun or snow, that they provide a 5-year fabric warranty and a two-year workmanship warranty.  Like all Denver Tent products, with proper care, this tent will last for years and could be passed down to your next generation of hunters.
About Denver Tent
Denver Tent is the oldest hunting tent maker in the United States and has been manufacturing the highest quality tent, custom fabric and outdoor products since 1890.  Known primarily for the western "Wall Tent" made of canvas, Denver Tent also makes many of styles of tents, tipis, tarps, boat/trailer covers and awnings.  Denver Tent's Mission:  To be the premier manufacturer and value-added reseller of tent, sportsmen's and custom fabric products and services to our customers and partners by offering exceptional quality, trusted advisory and unparalleled service at competitive pricing.   To learn more about The Colorado Lodge Tent and all the Denver Tent products check out their website at www.denvertent.com.