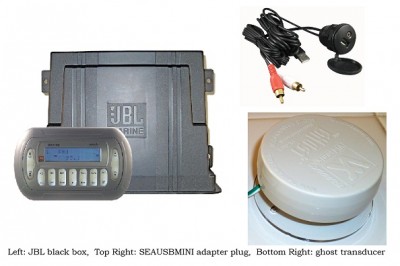 A stereo system can bring a lot of fun and good times to a day of boating.  But, installing a sound system can be tricky.  However, when certain components are used together, Prospec Electronics offers a simple OEM or aftermarket solution to the hassle of mounting a traditional stereo system.
Only a few components are needed to make this simplicity a reality.  Those include one of Prospec's black box systems (JBL or Milennia), SEAMINI2 or SEAUSBMINI adapter plug, antenna and 2-4 transducers.
Prospec's newest transducer is nicknamed a ghost transducer, since it doesn't even require a cutout.  A transducer mounts to a solid object and transfers its acoustical energy into the substrate.  When this device is used with the company's black box systems, the biggest hole needed for installation is 1-1/4″.
A leader in marine electronics since 1981, Prospec Electronics manufactures and distributes marine-quality products and accessories, including SeaWorthy, Milennia, Infinity and JBL.  Extensively tested, its lines are backed by a 5-year Owner Protection Plan.
Contact Prospec Electronics, 3325 S Morgans Point Rd., Mt. Pleasant, SC  29466.  www.prospecelectronics.com.