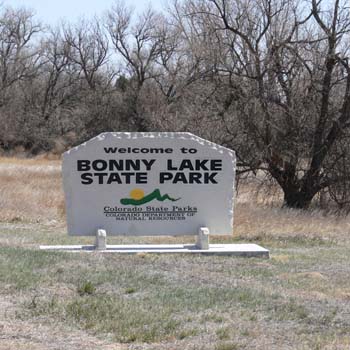 Burlington, CO. – Bonny Lake State Park, which will become part of the South Republican State Wildlife Area on Saturday, Oct. 1, is closing campgrounds and other visitor services for the winter.
The State Engineer began draining the reservoir on Sept. 22, releasing virtually all the water to Kansas and Nebraska to comply with the Republican River Compact, which divides the water between the three states. Draining the lake will result in the loss of the entire fishery.
Colorado Parks and Wildlife biologists have started removing fish from Bonny Lake in anticipation that the lake will completely drain over the next two months. As long as conditions allow, biologists will trap as many fish as possible and relocate sport fish to other public fishing waters.
Although the lake closed for trailer-launched boating on Wednesday, Sept. 28, non-commercial anglers can continue to remove fish as long as the shoreline remains stable and access is safe. There are no limits on the number or species of fish anglers can keep, but anglers must have a valid Colorado fishing license and must complete an angler survey card available at the reservoir.
The park's visitor center, the Foster Grove campground and the Wagon Wheel Campground have been closed and winterized. All potable water systems have been shut down. Some picnic tables are being removed and stored for future use.
At present, Colorado Parks and Wildlife is planning to manage the land in the former state park as part of the South Republican State Wildlife Area, a 13,000-acre management unit that offers deer, turkey, waterfowl and small game hunting.
Colorado Parks and Wildlife is working with the United States Bureau of Reclamation, Yuma County Commissioners, the Three Rivers Alliance, Yuma County Economic Development Council and other community groups to determine the future of the former State Park. The discussions include facilities and campgrounds that were previously managed by Colorado State Parks.
Bonny Reservoir was created in 1951 when the U.S. Bureau of Reclamation built a flood control dam on the South Fork of the Republican River. Over the years, Bonny Lake State Park became a recreational oasis on Colorado's eastern plains, just a few miles from the Kansas border. For more information on the new South Republican State Wildlife Area, please visit: http://wildlife.state.co.us/LandWater/StateWildlifeAreas/.