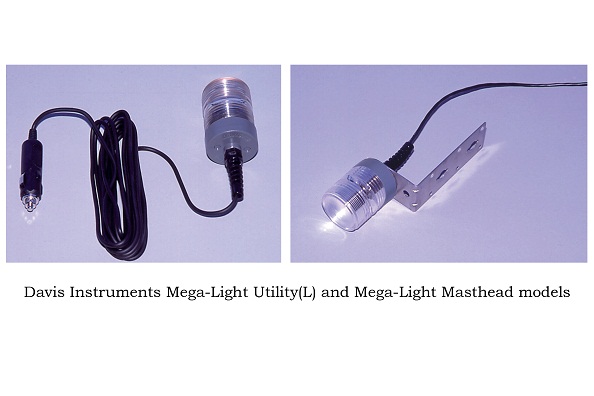 Dependable light goes a long way to ensure safety, security and comfort onboard or outdoors. Because of limited battery capacity on vessels and RVs, minimal power draw is a must to keep a light shining. Requiring a miniscule 0.11 amp, Mega-Lights from Davis Instruments can run 12 hours on one amp-hour of 12V power.
Also capable of operating continuously for more than 700 hours on a 12V, 80 amp-hour battery, three Mega-Light models offer multiple features and functions. All feature a bulb that draws just 0.11 amp, roughly 1/10 of an amp, that's visible for two miles when used as an anchor light. Also included is a easily interchangeable, brighter bulb for reading or use as a cockpit or interior light. It draws a mere 0.32 amp, or 1/3 amp.
Convenient and versatile, Mega-Lights are great for marking boats, reading and close-work, inspecting an engine, fishing at night or preparing a campfire meal. The waterproof, dual-function Fresnel lens projects light visible up to two nautical miles. When hung upside-down, the clear 1:1 lens provides area lighting to illuminate decks, cockpits and campgrounds.
A built-in light sensor on the Mega-Light Utility and Masthead models automatically turns the light on at dusk and off at dawn to provide security while owners are away. Unlike inexpensive yard lights, Mega-Lights are completely sealed and won't corrode in saltwater air. Their incandescent bulbs also react more quickly to sensors than LEDs as twilight descends.
The Mega-Light Utility features a new energy-efficient circuit board. It comes with 15′ of heavy-duty cord and plugs into a 12V lighter socket. The featherweight light hangs from an adjustable, triangular bracket.
Easily installed on a masthead, interior wall, cockpit or bulkhead, Mega-Light Masthead comes fastened to an L-shaped stainless steel bracket. A 12″ pigtail simplifies wiring directly into the power source.
Along with the two incandescent bulbs, Mega-Light Ultimate Cockpit Light features a red and yellow LED controlled by a waterproof push button. Six modes include steady white, red or yellow as well as blinking and alternating flashing red and yellow. Myriad uses include vessel identification, reading charts at night or creating ambience while entertaining aboard. It comes with 15′ of heavy-duty cord, a 12V socket plug-in and sturdy hanger. The LEDs are guaranteed for more than 100,000 hours.
A spare Mega-Light works well in the car for emergencies or for loading and unloading at night. These powerful little lights are perfect stocking-stuffers or for giving on any occasion.
Suggested retail pricing for the Davis Instruments Mega-Light starts at $49.99.
Contact Davis Instruments, 3465 Diablo Ave., Hayward, CA 94545. 510-732-9229; Fax: 510-732-9188. [email protected]; www.davisnet.com.