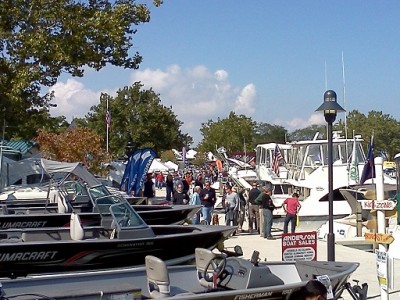 Livonia, Mich., September 28, 2011 – The Boating & Outdoor Festival held at Metro Beach Metropark this past weekend, Sept. 22-25, 2011 was deemed a success by exhibitors and producer, Michigan Boating Industries Association (MBIA).
Many exhibitors had increased their space size realizing the improving market is the time to capture sales. At this show dealers were selling boats and gathering quality leads. Consumers had upbeat attitudes and genuine buying interest, more signs boat sales are moving in the right direction.
Description: 092411140623"Exhibitors were pleased with the number of consumers and the quality of buyers at the event," said Director of Exhibit Sales Neil Williams. "We were impressed with the crowds."
Aisles were full with people staying longer to enjoy the event and seriously shop products, however attendance numbers remained the same as in 2010.
Length of stay was extended for many attendees due to Festival features, Duma the famous waterskiing dog and Nickelodeon's Dora the Explorer. Adults and kids also filled the Tiki Bar Tent to enjoy Jimmy Buffet-style music.
"With more exhibitors and more to do at the Festival, attendees can stay longer and enjoy a full-day of family fun, we are proud of the Festival's turnout this year and look forward to next year's," said Show Manager John Ropp. Mark your calendar for Boat Fest 2012, September 20-23, 2012!
MBIA is a non-profit Association dedicated to the advancement, protection and promotion of the recreational boating industry in Michigan, representing nearly 300 marine businesses in Michigan. The boating industry in Michigan represents a $3.9 billion industry, with more than 758 marinas, 460 marine dealers and more than 51,000 jobs. For more information go to www.mbia.org.