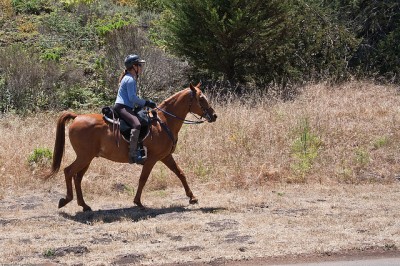 Jefferson City, Mo., SEPT. 27, 2011 – Three miles of McAdoo Equestrian Trail at Knob Noster State Park near Knob Noster will reopen Oct. 1 to horseback riders and hikers. The new trailhead, located near the entrance to Camp Bobwhite off of Hwy. DD, and 1.5 miles of trail on either side of the trailhead will be open for use.
The seven-mile trail had been closed temporarily to allow staff to repair or reroute areas of the trail damaged by erosion, and to relocate the trailhead to an area less prone to flooding and less impacted by traffic from Hwy. DD. Additionally, the trail was closed as a precaution because a portion of the trail was located near private property where unexploded ordnances associated with the former Sedalia Army Airfield Rifle Range were discovered.
Repairs to approximately three miles of trail as well as construction of the new trailhead, which includes potable water and expanded horse trailer parking, were funded through an $87,000 grant from the federal Recreational Trails Program. Park staff will continue to make repairs to the remaining four miles. The park has applied for an additional Recreational Trails Program grant to assist with funding for trail materials. Because the original trailhead has been relocated and a section of trail located near the area of unexploded ordnances has been closed, the original trailhead and the six-site equestrian campground off of Hwy. 23 have been closed as well. Repairs to the entire seven-mile trail system are anticipated to be completed by fall 2012.
Knob Noster State Park is located on Hwy. 23, just south of Hwy. 50 and north of Whiteman Air Force Base. For more information about McAdoo Trail or the park, contact the Knob Noster State Park office at 660-563-2463 or call the Missouri Department of Natural Resources toll free at 800-334-6946 (voice) or 800-379-2419 (Telecommunications Device for the Deaf). For more information on state parks and historic sites, visit mostateparks.com.