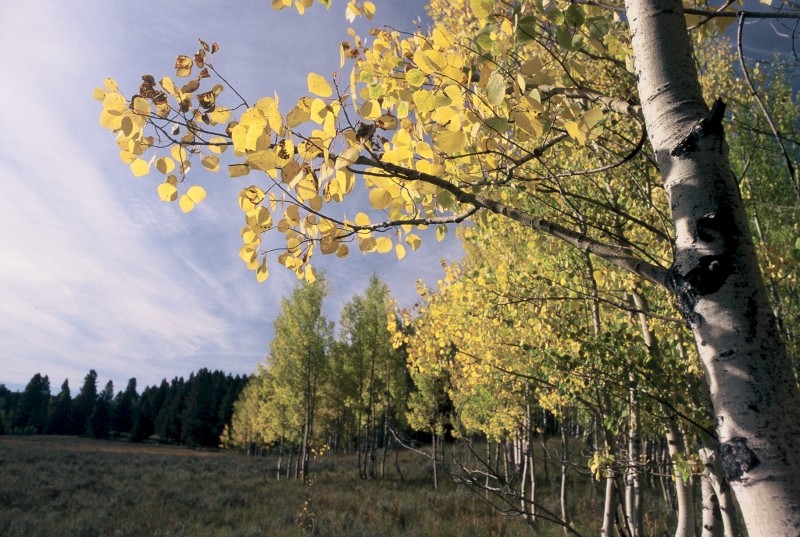 DENVER – From the mountains to the plains, the yellows, oranges and reds of fall are transforming the hills, mountains, forests and prairies at all Colorado State Parks. At the state parks in western Colorado, the fall colors will peak in next few weeks while the autumn burst of beauty is sweeping central Colorado from State Forest State Park near Walden to Navajo State Park near the New Mexico border. And along the Interstate 25 corridor from Lory State Park near Fort Collins to Trinidad State Park near Trinidad, the golden hues have started to appear.
Colorado's state parks contain some of the state's most beautiful landscapes and autumn colors, all accessible by extensive and easily navigable trails and trail systems. Visitors can explore Colorado State Parks' stunning scenery via trails on foot, horseback or by bike. For more information, please visit the state parks' website at http://www.parks.state.co.us/pages/fall.aspx
With hundreds of miles of trails for hiking and biking, Colorado State Parks are sure to have a trail to fit every age, ability and interest. Ridgway, Rifle Falls, Golden Gate Canyon, Lake Pueblo and Vega State Parks offer great fall hiking trails through Aspen groves and along creeks and streams. Bikers can head to James M. Robb Colorado River, Lory and Highline Lake State Parks for miles of challenging and scenic riding terrain.
In central Colorado, enjoy walking and viewing the golden trees and their reflections in lakes and rivers at Eleven Mile State Park near Lake George, the Arkansas Headwaters Recreation Area near Salida and San Luis State Park near Alamosa. Stroll the along trails to collect memories of the last burst of fall splendor at more than a dozen state parks near I-25, including  Boyd Lake, St. Vrain, Barr Lake, Golden Gate Canyon, Cherry Creek Chatfield, Roxborough, Castlewood Canyon, Mueller, Cheyenne Mountain and Lathrop State Parks.
Picturesque camping and lodging among the dramatic fall foliage is also available at many state parks. Make a reservation at one of the cabins and yurts at Sylvan Lake, Golden Gate, Navajo and Ridgway State Parks, or a check in to a camper cabin at Golden Gate Canyon,  Mueller, Navajo, State Forest, Steamboat Lake, Sylvan Lake, and Vega State Park.  For those looking for an autumn night under the stars, pitch a tent at Crawford, Cheyenne Mountain, Lake Pueblo or Stagecoach State Parks. To find out about camping and lodging reservations, please visit www.parks.state.co.us/lodging and www.parks.state.co.us/camping
Hikers, bikers and equestrians can find more details on trails by visiting the park of their choice online and selecting the Trails link or they can search by activity atwww.parks.state.co.us/hiking and www.parks.state.co.us/horses
Colorado Parks and Wildlife gets everyone outdoors! Attracting more than 12 million visitors per year, Colorado's 42 State Parks are a vital cornerstone of Colorado's economy and quality of life. Colorado State Parks encompass 224,447 land and water acres, offering some of the best outdoor recreation destinations in the state. Colorado Parks and Wildlife is a leader in providing opportunities for outdoor recreation, protecting the state's favorite landscapes, teaching generations about nature and partnering with communities. Colorado State Parks also manage more than 4,300 campsites, and 63 cabins and yurts. For more information on Colorado State Parks or to purchase an annual pass online, visit www.parks.state.co.us.