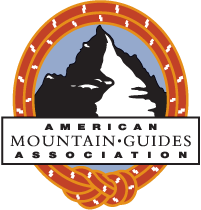 The American Mountain Guides Association (AMGA) is excited to announce that adidas Eyewear has joined the organization as its newest Diamond Partner.
As a Diamond Partner, adidas Eyewear is committed to supporting the AMGA mission as well as making a direct impact on AMGA members through scholarships, program subsidies and development opportunities. Additionally, adidas Eyewear plans to support the AMGA Annual Meeting as a Presenting Sponsor, allowing us to host a top-notch event for our members.
"For over a decade, adidas Eyewear has been deeply involved in mountaineering, particularly through our commitment to develop products whose performance our athletes can trust even in the most difficult situations", notes Rocky Fresh, US Brand Marketing Director for adidas Eyewear. "As we look to see climbing and mountaineering grow even more in the US, who better for us to support than the AMGA and its members-a great partnership of the people and the products that climbers rely on."
"I am honored to welcome adidas Eyewear to the AMGA as our newest Diamond Partner," says Betsy Winter, Executive Director. "Joining the AMGA in this unique partnership highlights adidas's commitment to the mountain guiding and climbing instructor profession in the United States."
About the AMGA
For 30 years the American Mountain Guides Association (AMGA) has been the premier source for training, services and credentials for professional mountain guides and climbing instructors in the United States. A national non-profit, the AMGA is committed to enhancing the quality of outdoor services provided to the public, while serving as a resource for access and protecting the natural environment. The AMGA is our nation's exclusive representative to the International Federation of Mountain Guides Association (IFMGA), the international governing body responsible for guiding standards and education around the world.
About adidas Eyewear
Makers of award-winning performance eyewear such as the new TERREX FAST outdoor model, adidas Eyewear is a globally licensed brand of Silhouette International Schmied A.G., headquartered in Linz, Austria. Silhouette is one of the world's leading innovators and manufacturers of high-quality eyewear. Under the adidas trademark, Silhouette designs, manufactures and distributes adidas Eyewear worldwide. adidas Eyewear is distributed in the United States by one of Silhouette International Schmied A.G.'s wholly owned subsidiaries, Silhouette Optical, Ltd., located in Green Island, New York. For more information about adidas Eyewear, please visit www.adidas.com/eyewear