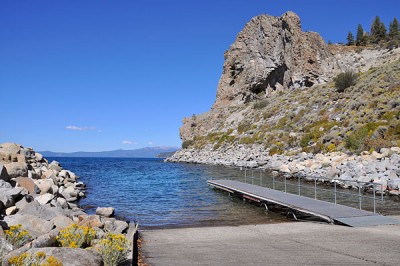 Incline Village, Nev. – The winter boating season starts October 1, 2011, and Lake Tahoe boat inspections are moving from the off-site inspection locations back to launch ramps.
Sand Harbor's boat ramp will be open Thursday through Monday 6 a.m. to 2 p.m. and Cave Rock's launch hours will be 6 a.m. to 4 p.m. starting October 1, 2011. These hours will be in effect until March 31, 2012.
Remember to keep current Tahoe Inspection seals intact to streamline inspections.
Plan ahead to be familiar with new requirements and inspection locations.
Launch ramps may be closed during periods of inclement winter storms.
Clean, drain, and dry boats and equipment to protect waters from aquatic invasive species.
For more information on lauch locations and hours of operation, up-to-date weather closures or any other questions, please call 888-824-6267 or visit www.TahoeBoatInspections.com. Twitter updates are available on cellphones by texting "follow tahoeaquatic" to 40404.
Watercraft inspectors are provided by the Tahoe Resource Conservation District and are very important in protecting Lake Tahoe from the threat of aquatic invasive species such as Quagga and Zebra mussels.