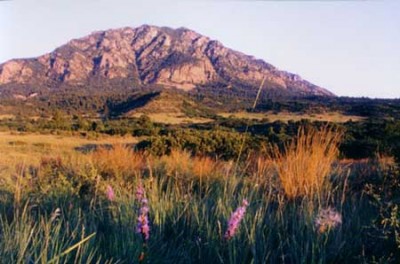 Colorado Springs, CO – Cheyenne Mountain State Park is inviting everyone to the park's second annual "No Child Left Inside" Day on Sunday, Oct 1. Families can come and explore the wonder and beauty of Cheyenne Mountain State Park while enjoying a variety of fun and educational outdoor activities provided by staff from Colorado Parks and Wildlife.
The activities start at 9 a.m. and continue through 2 p.m. Steve Lucero and John Koshak from Colorado Parks and Wildlife will be teaching archery and watchable wildlife skills. Other presentations by parks and wildlife staff include: animal track identification, the backyard bass casting game, prairie dog observation, bees and bee keeping, and bull snakes and rattlesnakes.
All of the activities are held outdoors. There also will be ecosystem hikes, a ranching and roping demonstration, and programs on the park's history, skins and skulls, hummingbirds, nature sculpturing, Junior Ranger training, and bear awareness.
The opening ceremony and a live snake presentation by Dick Holiday will be at the Prairie Skipper Picnic Pavilion starting at 9 a.m. Each vehicle entering the park must have either an annual ($70) or daily ($7) Colorado State Parks' pass. The passes may be purchased at the entrance booth, self-serve station or Cheyenne Mountain State Park's Visitor Center.
The "No Child Left Inside" campaign is a national initiative to get children outside to exercise, explore, and enjoy the natural environment. The campaign is sponsored nationally by the No Child Left Inside Coalition, which is made up of more than 1,500 organizations, including many in Colorado.
Please join us for a day of outdoor fun and enjoyment. For additional information call 719 576-2016.
Opened in 2006, Cheyenne Mountain State Park is situated just south of Colorado Springs. The 1,680-acre park lies beneath the eastern flank of Cheyenne Mountain, and borders the plains of Colorado in a stunning transition from plains to peaks. Foremost among the park's offerings is the trail system consisting of 20 miles of hiking and biking. These pathways allow visitors ample opportunities to explore the park's natural beauty. Additional information on Cheyenne Mountain State Park is available at: www.parks.state.co.us/Parks/CheyenneMountain.
Colorado Parks and Wildlife gets everyone outdoors! Attracting more than 12 million visitors per year, Colorado's 42 State Parks are a vital cornerstone of Colorado's economy and quality of life. Colorado State Parks encompass 224,447 land and water acres, offering some of the best outdoor recreation destinations in the state. Colorado Parks and Wildlife is a leader in providing opportunities for outdoor recreation, protecting the state's favorite landscapes, teaching generations about nature and partnering with communities. Colorado State Parks also manage more than 4,300 campsites, and 63 cabins and yurts. For more information on Colorado State Parks or to purchase an annual pass online, visit www.parks.state.co.us.