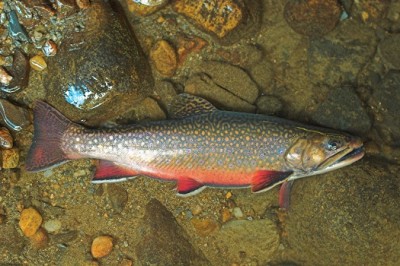 Barre, Vt – Looking for a good location to escape to for enjoyable outdoor fun in a quiet, colorful setting? Vermont has spectacular fall foliage coupled with great fishing opportunities, and it's easy to plan a trip to sample both using Vermont websites.
The cooler water temperatures of fall stimulate Vermont's largemouth and smallmouth bass to feed heavily, bringing some of the best bass fishing of the year at a time when you won't see much competition from other anglers. Lake Champlain, and lakes St. Catherine, Morey, Bomoseen, Hortonia, and Seymour have good fishing for both largemouth and smallmouth bass.
As surface waters cool in lakes, landlocked salmon and trout also increase their activity near the surface, making for great fishing that doesn't require deep trolling tactics. Lake Champlain has landlocked salmon from Vergennes north to its "Inland Sea." Landlocked salmon also can be found in lakes Memphremagog, Seymour and Willoughby in northeastern Vermont.
Fall spawning runs of landlocked salmon produce good fishing on the lower Winooski River in Winooski and the lower Clyde River in Newport. Fishing with artificial lures or flies is allowed on the lower Clyde during October, but salmon must be released when caught.
How about a family fishing and foliage vacation? The Vermont Fish and Wildlife Department has a new section on their website (www.vtfishandwildlife.com) with over 20 family-friendly fishing hotspots. Visit http://www.vtfishandwildlife.com/fish_familyfishing.cfm to learn about fishing opportunities, including directions, a list of fish species present, a satellite image overview, and links to additional helpful information. These areas are selected, in part, because they are easy places to go fishing without special equipment.
Want to see where the foliage is best? Go to www.vermontvacation.com and click on "Fall Foliage Central" and the "Foliage Forecaster" for an interactive map showing where to go as leaf colors change during September and October. The same site also has additional information for lodging, events and places to visit.
Vermont makes is easy to take the family fishing. Kids under 15 years of age can fish without a license in Vermont. Reduced rate licenses are provided for youths 15-17 years old. One, three and seven-day fishing licenses are offered at reduced rates for adults.
You can see lots of photos of some of Vermont's latest big catches in the "Master Angler" section of their website (http://www.vtfishandwildlife.com/masterangler_list.cfm).
Vermont fishing licenses are available online from their website. Regulations are found in the 2011 Guide to Hunting, Fishing and Trapping available from license agents and on the Fish and Wildlife website. For additional information, contact Vermont Fish and Wildlife by calling 802-241-3700 or Emailing [email protected].