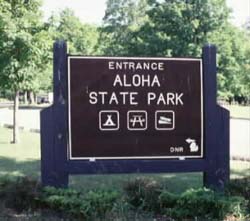 Aloha State Park in Cheboygan County will offer campers an opportunity to "GO-Get Outdoors" and enjoy the fall beauty during its annual Harvest Festival taking place Saturday and Sunday, Oct. 1-2, at the park, 4347 Third St. in Cheboygan.
This two-day event, sponsored by Fernelius Toyota-Chrysler-Dodge-Jeep and Black River Customs, will feature a day full of events on Saturday, including pumpkin painting and a haunted site contest with the winner receiving a barbeque grill worth $350 courtesy of Sears.
Chili cook-off judging begins at 4 p.m. on Saturday, followed by a costume contest at 5 p.m. Trick-or-treating in the campground takes place from 6 to 8 p.m.
The winner of the haunted site contest will be announced at the camp host site at 9 a.m. Sunday.
For campground reservations, call 800-447-2757 or visit www.midnrreservations.com. For further details about the event, call the park at 231-625-0211.
A Recreation Passport is required for vehicles entering Aloha State Park. The Recreation Passport has replaced motor vehicle permits for entry into Michigan state parks, recreation areas and state-administered boating access fee sites. This new way to fund Michigan's outdoor recreation opportunities also helps to preserve state forest campgrounds, trails and historic and cultural sites in state parks, and provides park development grants to local communities.
Michigan residents can purchase the Recreation Passport ($10 for motor vehicles; $5 for motorcycles) by checking "YES" on their license plate renewal forms, or at any state park or recreation area. Nonresident motor vehicles must still display a valid nonresident Recreation Passport ($29 annual; $8 daily) to enter a Michigan state park, recreation area or state-administered boating access fee site; these can be purchased at any state park or recreation area, or through the Michigan e-Store at www.michigan.gov/estore. To learn more about the Recreation Passport, visit www.michigan.gov/recreationpassport or call 517-241-7275.
The Michigan Department of Natural Resources is committed to the conservation, protection, management, use and enjoyment of the state's natural and cultural resources for current and future generations. For more information, go to www.michigan.gov/dnr.