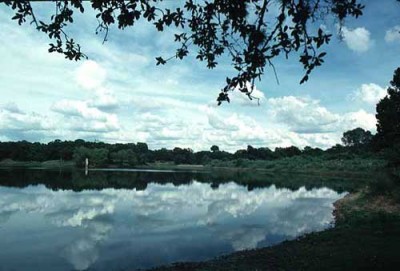 Bastrop – State park fans reeling from the closure of Bastrop State Park due to destruction caused by the recent wildfire that blackened all but 100 acres of the park can still enjoy a fall outing in the "Lost Pines" by visiting its nearby sister state park that escaped unscathed and reopened this week.
Buescher State Park, a 1,017-acre park just 13 miles east of better-known Bastrop State Park, opened to campers, picnickers, hikers and anglers on Tuesday after being closed since Sept. 4 due to the threatening wildfires. Its scenic loblolly pine and mixed hardwood woodlands, as well as all of its facilities, were untouched by the conflagration that swept through the county.
Outdoor lovers who may have been planning a visit to Bastrop State Park during the cooler autumn months should know that Buescher State Park, situated two miles northwest of Smithville, offers a similar quality outdoor experience amid the iconic "Lost Pines" and Post Oak Savannah ecological region. Like Bastrop, Buescher (pronounced Bish-er) also reflects the enduring craftsmanship of the Civilian Conservation Corps companies who in 1933 built its stone culverts, park entrance, spacious group pavilion and recreation hall, which is currently undergoing extensive renovations.
"The reason most people come here is that it's a little quieter and slower-paced than Bastrop," says park superintendent Cullen Sartor. "If people still want to experience the Lost Pines, they can come here and see our sizeable stand of the giant loblollies. We also have campgrounds and a popular 25-acre lake that offers great fishing and non-motorized boating opportunities."
Buescher State Park offers a variety of camping and recreational choices. Overnight guests can choose from among three distinct camping areas offering everything from mini-cabins and screened shelters to 65 campsites geared toward tent campers and RV users as well. Persons 13 and older pay a $4 entry fee; children 12 and under get in free.
The park's three climate-controlled, limited use cabins (they don't have restrooms) prove popular with those seeking some creature comforts and greater privacy. Renting for $75 a night, the cabins come equipped with a ceiling fan, mini-refrigerator, microwave, breakfast table and chairs, and double bunk beds that sleep four. They are located in the Oak Haven Camping Area, which features restrooms with showers.
When the weather is mild, some Buescher customers opt for one of the four screened shelters overlooking Park Lake in the Day Use Area. The shelters rent for $25 or $45 a night, depending on the amenities.
The handsome, rock CCC-constructed group picnic pavilion, which has a large fireplace and can accommodate 35, rents daily for $40. Built in 1936 for $646, the pavilion anchors the Lakeview Camping Area. The park's historic Recreation Hall remains closed for extensive renovations made possible by voter-approved Proposition 4 park bonds.
Reservations for accommodations and campsites can be made by calling the reservations center in Austin at (512) 389-8900 or online through the Texas Parks and Wildlife Department website: www.tpwd.state.tx.us.
In addition to camping and fishing, birding and hiking prove popular at Buescher. More than 250 bird species have been documented, including pileated woodpeckers and green kingfishers. Hikers can trek portions of a multi-loop hiking trail built by the local Sierra Club in the northern reaches of the park or tackle the entire 7.5 miles that wind through the hilltop pineywoods and bottomland deciduous forests.
So, while Bastrop State Park recovers, come discover one of the Texas State Park system's lesser-known treasures less than an hour's drive from the state capital.
Buescher State Park is located two miles northwest of Smithville, off Farm Road 153, just north of State Highway 71. For more information about the park, call (512) 237-2241.