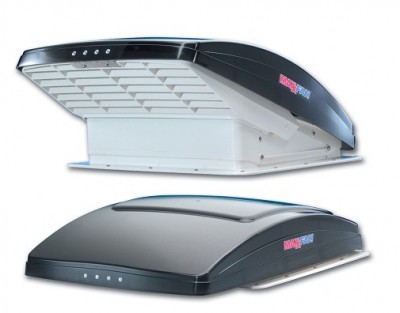 Bringing fresh air in an RV cabin and sending out musty air and odors is easy with a MaxxFan Deluxe from MaxxAir Vent Corporation.  This unique, patented ventilation system protects an RV's interior in any weather, while helping keep a cool and comfortable indoor environment.
Fitting standard 14″ x 14″ roof openings, the MaxxFan Deluxe provides over 900 cu. ft. of air per minute.  It features a powerful, 12V fan motor and 12″ diameter, 10-blade fan.  The 10-speed fan can also run with the lid closed to circulate air in Ceiling Fan mode.  An easy-to-remove interior insect screen keeps bugs out and makes cleaning a breeze.
Opening and closing like most standard roof vents, owners can choose between a manual opening model or an electric opening model.  With the manual model, owners use a manual knob located at the ceiling, while the electric opening model uses a handheld remote control to open the vent.  A flush-mounted Keypad located on the fan controls fan speed, thermostat, air intake and exhaust functions.
A 10-minute installation video can be found at www.maxxair.com/maxxfan.html.  MaxxAir's MaxxFan Deluxe has a starting price of $389.95 and comes with mounting screws and hardware.
Contact MaxxAir Vent Corporation, 5513 W. Sligh Ave., Tampa, FL  33634, USA.  800-780-9893; Fax: 813-876-2550.  [email protected];  www.maxxair.com.