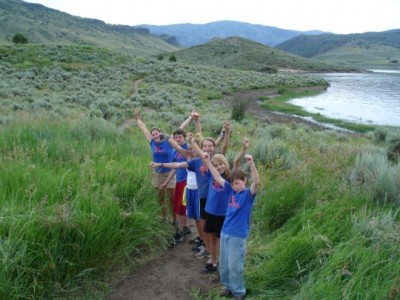 Oak Creek, CO. – Stagecoach State Park will host a volunteer event for National Public Lands Day on Saturday, Sept. 24 from 10 a.m.- 2 p.m. Volunteers will help clean up litter from the shorelines, vacant camp sites, and trails. Snacks and beverages will be provided and volunteers will receive an appreciation gift for their efforts.
National Public Lands Day is the nation's largest hands-on effort to improve and enhance the public lands that all Americans enjoy. This event follows the four key values – health, family, fun and stewardship – that guide the "Let's Move Outside" initiative that was launched by First Lady Michelle Obama and led by the Department of the Interior, and the U.S. Forest Service.
Volunteer events are a great opportunity to spend some time outdoors with your friends and family taking care of the places you love. For more information on volunteering for the 3rd annual NPLD event at Stagecoach State Park, please call the park office at 970-736-2436.
Located in the verdant Yampa Valley of northwest Colorado, Stagecoach State Park offers visitors a wonderful area to enjoy Colorado's outdoors. Centered on a 829-acre reservoir with a full-service marina, Stagecoach State Park offers amazing fishing both on the reservoir and in the Yampa River tailwaters. The convenience of additional recreation opportunities and the family atmosphere makes Stagecoach State Park a wonderful vacation destination. Additional information on Stagecoach State Park is available at: www.parks.state.co.us/Parks/Stagecoach.
Colorado Parks and Wildlife gets everyone outdoors! Attracting more than 12 million visitors per year, Colorado's 42 State Parks are a vital cornerstone of Colorado's economy and quality of life. Colorado State Parks encompass 224,447 land and water acres, offering some of the best outdoor recreation destinations in the state. Colorado Parks and Wildlife is a leader in providing opportunities for outdoor recreation, protecting the state's favorite landscapes, teaching generations about nature and partnering with communities. Colorado State Parks also manage more than 4,300 campsites, and 63 cabins and yurts. For more information on Colorado State Parks or to purchase an annual pass online, visit www.parks.state.co.us.