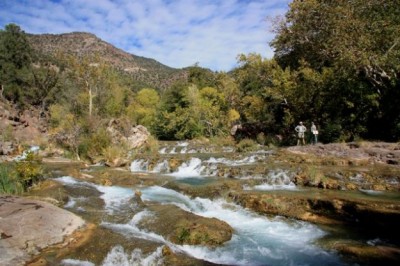 General Crooktrail – Calling all kids, calling all kids – you'll want to come to the Fossil Creek opening Oct. 1 for a unique fishing experience catching native roundtail and headwater chub at one of Arizona's two travertine stream treasures.
Oh yeah, please feel free to bring your parents along, they'll like it too.
You might want to ensure your parents bring their digital cameras, video devices or have their smart phones powered up and ready for action. The amazing turquoise-colored waters of Fossil Creek might just provide your family with Arizona Highways like social media posts or screen savers that will amaze your friends for years to come. It's a memory builder!
Here are the details.
The Arizona Game and Fish Department is conducting two sessions for the annual opening of this unique seasonal fishery (October-April) in the
Verde Valley just off the General Crook Trail. The first session on Saturday, Oct. 1 is 10 a.m. to 1 p.m. The second session is 1 p.m. to 4 p.m.
Just take your pick and contact Chuck Benedict, one of our fishery biologists in Flagstaff, at (928) 214-1244 or [email protected] to sign up (along with your parents of course!). Youth groups are welcome.
Game and Fish will have a limited supply of loaner rods, reels and tackle available. You can also bring along your own spinning tackle or fly fishing gear.
"Please inform your parents that native chub must be immediately released unharmed and they must use artificial flies and lures only with single barbless hooks. Light spinning tackle, such as ultra lights, or fly fishing tackle typically works best in this amazingly clear water," Benedict advised.
This event is parent-friendly, but be sure to have them wear suitable shoes and clothing for the rough terrain along the verdant riparian area adjoining the creek.
Your parents will be amazed because they will experience a profusion of cactus, yuccas, wild flowers, willows, wild grapes, sycamores, cottonwoods and even mesquite all coming together in a remarkable Eden-like botanical display. But tell them that some of the vegetation comes replete with thorns and stickers, so have them dress accordingly.
This fairly unique stream is saturated with calcium carbonate, which results in the formation of large fossil-like rock growth (also called travertine), often with leaves and other vegetative matter being trapped in the travertine formations.
You probably want to let your parents know that these hard, rough-textured cement-like formations can be tough on their shins, knees and other body parts when navigating their way along the stream bottom while having fun, hence the need for sturdy footwear and appropriate clothing.
But these rock formations also create the spectacular and scenically unique stream with its series of waterfalls, cataracts, deep aqua pools and other formations. Parents might discover a wealth of information to enthrall other adults in their science or natural history classes at school.
You might want to bring along some band aids, just in case your parents get some minor scrapes or abrasions. You know how adults are, but tell them it's all part of the Fossil Creek adventure!
Don't forget kids, you might even want to take a group of adults to experience a Fossil Creek adventure – it's way better than just watching nature programs on TV or playing pretend adventures on their digital devices. Fossil Creek is where fantasy and reality come together for real-life adventures in a surreal riparian landscape.
Please inform your adults that other sponsors of this wonderful annual event include the U.S. Fish and Wildlife Service, Tonto National Forest, Coconino National Forest, the Arizona Flycasters, Northern Arizona Flycasters, Desert Flycasters, and the Payson Flycasters. It's always good manners to thank those helping out – raise those parents right!
You might also want to tell your parents that activities include fly-fishing demonstrations and fly tying. "Your parents can even tie their own fly and then go fish with it – we've got experts on hand to help them do both," Benedict promised.
The Fossil Creek seasonal fishery is open each year on the first Saturday of October and stays open through April 30.
You might also want to let your parents know that Fossil Creek is easy to find: just get off I-17 on the General Crook Trail at the bottom of the hill if coming into the Verde Valley from the south, or get off at the Camp Verde exit if coming down from the north.
Directions:
From Camp Verde, take Highway 260 east (General Crook Trail) to Forest Service Road #708 (dirt), and look for the Fossil Creek sign. Drive 12 miles and go LEFT at the fork, and then drive about one mile. Look for the signs on the left.
This is a steep, dusty road that winds through some ruggedly beautiful country, so take your time, drive slowly, be safe and enjoy the scenery.
From Strawberry, take Fossil Creek Road (Forest Service Road #708) and wind your way down this often steep dirt road to Fossil Creek. After you cross a bridge over the creek, drive about one mile and look for the signs designating the event parking. Those with fears of heights may want to avoid this route.
More information on Fossil Creek: For more information and background on Fossil Creek, visit www.azgfd.gov/artman/publish/printer_332.shtml, view a digitized report on the Game and Fish website at www.azgfd.gov or visit the Northern Arizona University website at www.watershed.nau.edu/fossilcreekproject.