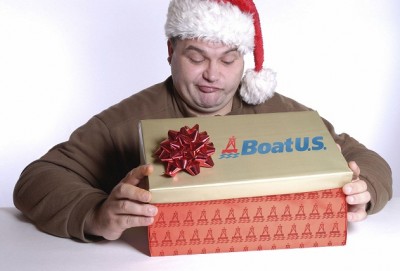 Alexandria, Va. September 21, 2011 – Not all boat owners are the same, so when it comes time to pick out a holiday gift for your favorite boater or angler, not just any present will do. Boat Owners Association of The United States (BoatUS) has three gift-giving options that can all be purchased online at www.BoatUS.com/gift.
The "affordable" $24 gift: BoatUS membership is just $24 and is a perfect gift if you are on a budget. A BoatUS membership makes anyone's boating better and comes in two "flavors" – one for boaters and sailors (BoatUS membership) and one for anglers (BoatUS Angler membership). For each, the $24 annual membership fee includes a subscription to BoatUS Magazine or to BoatUS Angler Magazine (respectively), and includes 24/7 dispatch with $50 of on-the-water boat towing assistance and $50 of on-the-road assistance for a disabled boat trailer and tow vehicle. Exclusive fuel, transient slip and repair discounts, savings on boating gear, fun online learning opportunities (such as navigation video games), and access to lots of "how-to" information is also included. Being a member also means a bigger voice for your boater on Capitol Hill when government unfairly targets boaters with anti-boating legislation.
The gift for "trailerboaters": There is nothing worse than having a boat trailer breakdown on the road, which often results in having to leave the rig unattended while the owner looks for help. Adding BoatUS "Trailer Assist" for an additional $14 to any BoatUS or BoatUS Angler membership means this will never happen to your favorite boater. Included is 24/7 dispatch and 100 miles of free towing for both the boat trailer and its tow vehicle to a safe location or repair facility, as well as a lock-out, flat tire, battery jump and fuel drop-off service. We'll even winch the boat trailer up a slippery boat ramp if you get stuck. Also included is a subscription to BoatUS Trailering Magazine.
The "Unlimited" gift: Having an on-the-water towing plan from the nation's largest towing fleet means your boater will always have the security of knowing help is just a call away. Freshwater boaters can add "Unlimited" on-the-water towing to their membership for just $34 while saltwater boaters can add it for $125 annually. 24/7 dispatch, soft ungroundings, jump starts, fuel delivery and tows back to a marina, home dock or launch ramp are included for any boat that is owned, rented, chartered or borrowed. To see the various service levels offered, go to www.BoatUS.com/join/servicelevels.asp.
About BoatUS:
BoatUS – Boat Owners Association of The United States – is the nation's leading advocate for recreational boaters providing over half a million members with government representation, programs and money-saving services. For membership information visit www.BoatUS.com or call 800-395-2628.