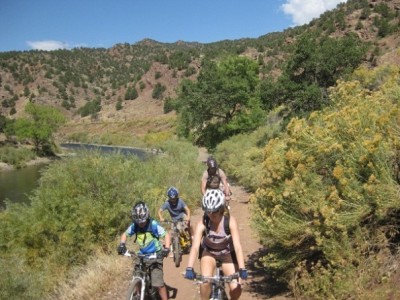 Salida, Colo. – As part of the International Mountain Biking Association's "Take a Kid Mountain Biking Day" on Sept. 30, the Arkansas Headwaters Recreation Area (AHRA), Absolute Bikes, and the Greater Arkansas River Nature Association (GARNA) will host a mountain bike ride along the Arkansas River east of Salida in the Point Barr to Howard area, starting at 11 a.m.
The route is an easy ride on a double-track dirt road along the northeastern bank of the Arkansas River. The ride will start at the Point Barr Recreation Site and proceed approximately four miles downriver to the western end of Howard and then back to Point Barr. The ride will take between 1½ – 2 hours and will allow plenty of time for snacks and to explore the scenic surroundings. The Point Barr Recreation Site is accessible from Fremont County Road 45 at the Wellsville exit off of Highway 50, a distance of about 3¼ miles from the Wellsville bridge.
For those children lacking mountain bikes or helmets for the event, Absolute Bikes is offering complimentary bikes and helmets. In addition, Absolute Bikes is offering free shuttle service for 14 riders and bikes to and from the event, if needed. For those needing bicycles, helmets and/or shuttle service from Absolute Bikes, please meet at their shop at 10 a.m. Absolute Bikes is located at 330 W. Sackett Avenue in Salida.
Please contact the AHRA by Wednesday, Sept. 28 to register for this event and to reserve mountain bikes, helmets, and a shuttle if needed. Call us at: 719-539-7289 or come by the AHRA Visitor Center at 307 West Sackett Ave. in Salida.
The AHRA is managed through a cooperative effort between the Bureau of Land Management and Colorado State Parks. Formed in 1989, this partnership allows agencies to provide visitors with recreation opportunities and care for significant natural resources of the Upper Arkansas River Valley.
Running from the alpine highlands below Leadville to the open prairies above Pueblo, the Arkansas Headwaters Recreation Area (AHRA) encompasses Colorado's widely diverse geology, topography and history. The breadth of these resources provides vast opportunities for the enjoyment of nature and outdoor recreation, set against a spectacular vista of mountains and open country. One visit will convince any visitor why this is one of America's premier recreation rivers. Additional information on the Arkansas Headwaters Recreation Area is available at: www.parks.state.co.us/Parks/ArkansasHeadwaters.
Colorado Parks and Wildlife get everyone outdoors! Attracting more than 12 million visitors per year, Colorado's 42 State Parks are a vital cornerstone of Colorado's economy and quality of life. Colorado State Parks encompass 224,447 land and water acres, offering some of the best outdoor recreation destinations in the state. Colorado State Parks is a leader in providing opportunities for outdoor recreation, protecting the state's favorite landscapes, teaching generations about nature and partnering with communities. Colorado State Parks also manage more than 4,300 campsites, and 63 cabins and yurts. For more information on Colorado State Parks or to purchase an annual pass online, visit www.parks.state.co.us.