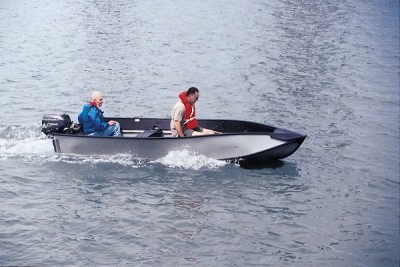 On the anniversary of 40 years of continuous production, Porta-Bote International has unveiled its new high-performance portable folding boats.
The internationally patented Porta-Bote is now available in the Genesis and eXxstream Series of 8′, 10′, 12′ and 14' models with hulls weighing in at 54, 67, 77 and 97lbs. respectively. All Porta-Botes can be opened in just a few minute, weigh half as much as comparable aluminum boats and store easily with their 4 inch (11.4cm), flat folded size. The tough hulls carry a 10 year limited warranty by the manufacturer, never need painting and are unaffected by saltwater, fuel and even battery acid.
Naturally, Porta-Botes are ideal for the boating enthusiast who enjoys fishing, hunting and
sailing but lacks the space to store ordinary boats. Porta-Botes are also extremely practical for owners of small autos and Rvs since they easily stow on the roof or side of the vehicle. By eliminating the need to tow a heavy trailer, fuel costs are significantly reduced.
In addition to being used as an owner's main craft, Porta-Botes make excellent ship-to-shore dinghies since they take up so little space on board sailboats and cabin cruisers.
As for performance, Porta-Botes leave similar sized aluminum boats and inflatables in their wake only needing half the horsepower and using half the fuel of these heavier boats. The hull's design traps the bow wave and guides it under the boat to dramatically reduce drag while increasing speed and stability.
Contact Information: www.porta-bote.com  or (email)  [email protected]