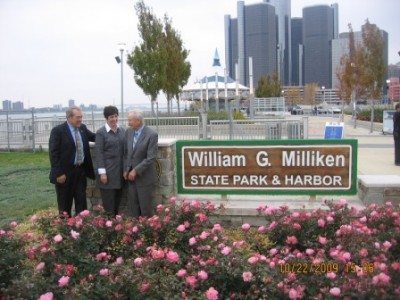 The William G. Milliken State Park and Harbor's Phase 2 Lowland Park in Detroit was recently honored by The Michigan Chapter of the American Society of Landscape Architects (ASLA).
The expansion project, completed in 2010, took a top honor in the Landscape Architectural Design category of the 26th annual Michigan ASLA Chapter Awards Program. The award was presented to landscape architectural design firm JJR of Ann Arbor, who served as consultants to the Michigan Department of Natural Resources on the project.
The Phase 2 project features energy-efficient LED lighting along the new trails and riverwalk as well as a wetlands area that was developed using plants indigenous to southeast Michigan.
The park complements the waterfront development associated with the Detroit RiverFront Conservancy.
According to Regional Field Planner Kristen Bennett of the DNR's Southfield Planning Office, the award also reflects the park's state-of-the-art storm water filtration system that was developed with a grant from the Department of Environmental Quality. The system captures water runoff and passes it through a natural cleansing process using the braided wetlands before it is released into the Detroit River.
The park, located on Atwater Street, has restored a portion of brownfield land in a former industrial area along the Detroit riverfront and already is attracting increasing numbers of wildlife including geese, hawks, muskrats and foxes.
The Recreation Passport has replaced motor vehicle permits for entry into Michigan state parks, recreation areas and state-administered boating access fee sites. This new way to fund Michigan's outdoor recreation opportunities also helps to preserve state forest campgrounds, trails, and historic and cultural sites in state parks, and provides park development grants to local communities.
Michigan residents can purchase the Recreation Passport ($10 for motor vehicles; $5 for motorcycles) by checking "YES" on their license plate renewal forms, or at any state park or recreation area. Nonresident motor vehicles must still display a valid nonresident Recreation Passport ($29 annual; $8 daily) to enter a Michigan state park, recreation area or state-administered boating access fee site; these can be purchased at any state park or recreation area, or through the Michigan e-Store at www.michigan.gov/estore. To learn more about the Recreation Passport, visit www.michigan.gov/recreationpassport or call 517-241-7275.
The Michigan Department of Natural Resources is committed to the conservation, protection, management, use and enjoyment of the state's natural and cultural resources for current and future generations. For more information, go to www.michigan.gov/dnr.