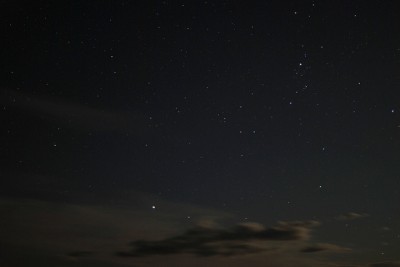 Sterling, CO. – Family and friends, young and old, are all invited to come join the party at North Sterling State Park – the Star Party, that is!
On Saturday Sept. 24, Northeastern Junior College Professor David Coles will host the ever popular Fall Star Party at the west end of Chimney View Campground at North Sterling State Park. Watch for shooting stars and view constellations and planets under the expert guidance of Professor Coles. Take a look at the skies through the telescopes provided, or bring a pair of your own binoculars for a close-up view, and don't forget the hotdogs and marshmallows!
When does it start? When the stars come out!
Head out to the reservoir before sunset and take a stroll along the easy trails at Sunset Point for a beautiful view. Keep an eye out for our resident bald eagles, or watch for the other hawks and raptors migrating through – turkey vultures and Swainson's hawks are departing southward for the winter, but rough-legged hawks, northern harriers, and merlins are just arriving from the north. Even golden eagles and ferruginous hawks have been making appearances, so make the most of your evening and enjoy the view.
Once the sun has set, make your way over to Chimney View Campground and watch the stars come out while you sit by a warm campfire and say hello to your neighbors. Stay as late as you'd like, and enjoy the evening!
Remember, the weather will be cool and the hilltop can be breezy – be sure to wear warm, layered clothing, and bring extra blankets, hats, gloves, flashlights, folding camp chairs, snacks and drinks to make sure you stay comfortable. Take advantage of the campfires and bring roasting sticks, marshmallows, and hot dogs! Valid daily or annual park passes are required, so carpooling is encouraged. Daily passes will be available at a self-serve station at the entrance for $7.00 (exact change or a check). Your daily pass is valid until noon the next day, so come back in the morning to go fishing, hiking, or bird watching! Don't forget to ask us how you can get a FREE annual pass!
Looking for other fun activities at North Sterling? Visit our website at www.parks.state.co.us/parks/NorthSterling for more detailed information, ideas, and printable activities! North Sterling State Park now has web pages dedicated entirely to Family Activities, Boating, Fishing, and Hunting, with more to come this winter. Take a look at the FREE equipment you can borrow at the visitor center, check the calendar for upcoming events, get the most current update on our resident bald eagles, and more!
Colorado Parks and Wildlife gets everyone outdoors! Attracting more than 12 million visitors per year, Colorado's 42 State Parks are a vital cornerstone of Colorado's economy and quality of life. Colorado State Parks encompass 224,447 land and water acres, offering some of the best outdoor recreation destinations in the state. Colorado Parks and Wildlife is a leader in providing opportunities for outdoor recreation, protecting the state's favorite landscapes, teaching generations about nature and partnering with communities. Colorado State Parks also manage more than 4,300 campsites, and 63 cabins and yurts. For more information on Colorado State Parks or to purchase an annual pass online, visit www.parks.state.co.us.