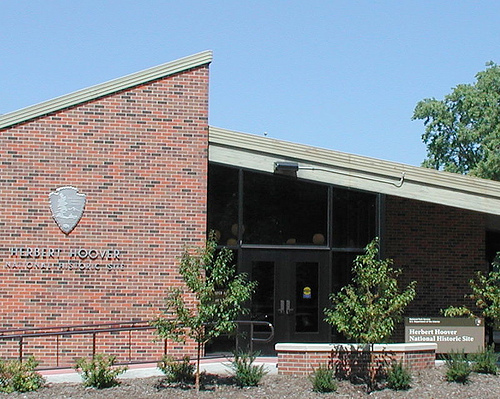 West Branch, Iowa—On Saturday, September 24, more than 180,000 volunteers will visit their favorite parks, beaches, wildlife preserves, or forests and chip in to help improve these treasured places. They'll be taking part in National Public Lands Day (NPLD), the largest, single-day volunteer event for public lands in our country.
This year marks the 18th annual National Public Lands Day, an event that brings together thousands of volunteers from coast to coast to improve and restore the lands and facilities that Americans use for recreation, education, exercise and just plain enjoyment. Last year more than 170,000 Americans participated at more than 2,000 sites in all 50 states, Guam, Puerto Rico and Washington, DC. More information about nationwide National Public Lands Day events can be found at www.publiclandsday.org.
On Saturday, September 24, Herbert Hoover National Historic Site will participate in National Public Lands Day with a volunteer project in the 81-acre tallgrass prairie. Volunteers are needed to help remove trees, shrubs, and weeds from the grassland, or with other projects to improve the park landscape. Volunteers interested in helping on September 24 may contact Adam Prato at (319) 643-7855. Work in the prairie will be from 9:00 a.m. to 12:00 p.m. Meet at the Visitor Center at 8:30 a.m. for an orientation and to get signed up. Dress for the weather and wear comfortable work clothes. Water, sunscreen, sunglasses, hats, and insect repellent are recommended. Long pants and closed-toe footwear are required. "Volunteers who participate will be rewarded with coupons for free entry into their favorite federal public land areas that have entrance fees," said park superintendent Pete Swisher.
Herbert Hoover National Historic Site and the Herbert Hoover Presidential Library and Museum are in West Branch, Iowa at exit 254 off I-80. Both are open daily from 9 a.m. to 5 p.m. Central Time. Parking is limited so please allow extra time to find a parking space. For more information go online to www.nps.gov/heho or call (319) 643-2541.