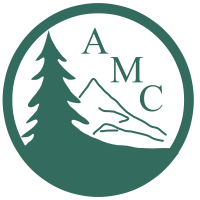 With New England's fall foliage season almost here, the Appalachian Mountain Club (AMC) is offering free hike itineraries with maps for its top 10 "4,000-Footer Foliage Hikes" in New Hampshire's White Mountains. Recommended hikes include a family-friendly option, and beautiful fall colors are an added bonus for peak-baggers. The AMC Four Thousand Footer Club officially recognizes hikers who have summited all 48 4,000-foot peaks in New Hampshire.
Each expert-picked hike is available through a five-day trial of AMC's White Mountain Guide Online community and subscription service. To take advantage of this offer, which also includes access to suggested "Hikes for Kids" and "Hikes to Huts," use promo code WMGOT5 when registering at www.outdoors.org/fallguide.
The AMC's two roadside lodges, Highland Lodge in Crawford Notch and Joe Dodge Lodge in Pinkham Notch, are located in the heart of the White Mountains with doorstep access to the region's extensive network of hiking trails. For backcountry adventures, most of AMC's White Mountain huts are open for full service, with a hearty dinner and breakfast, through mid-October.
Highlights from a few of AMC's 10 recommended foliage hikes include:
Mt. Osceola: Enjoy a relatively easy hike to the wide open ledge of 4,340-foot Mt. Osceola, the tallest peak in the Waterville Valley region, for excellent views of the Mad River valley and the picturesque Tripyramids. A smaller outlook to the north of the summit overlooks the Kancamagus National Scenic Byway and the Pemigewasset River Valley.
Cannon Mt.: For a family-friendly option, ride the Aerial Tramway to Cannon's 4,100-foot summit. The summit observation deck and summit Rim Trail offer dramatic close-up views of the Franconia Ridge directly across the notch. Another option is a moderately challenging hike to the summit, following the crest of the main ridge from the Tramway parking lot.
Mt. Moriah: Located on the Carter-Moriah Range, Mt. Moriah's ledgy 4,049-foot peak rewards a steep ascent to the Appalachian Trail with sweeping summit views of the northern Presidentials and the Mahoosucs.
Mt. Whiteface: Hiking to Whiteface's 4,020-foot true summit is a must for peak-baggers, but linger on the open ledges of the slightly lower south summit for superior vantage points. This hike starts in bucolic Whiteface Intervale in Sandwich and climbs up through the Sandwich Wilderness.
Zealand Falls Hut via Mt. Hale: For a more challenging hike to AMC's Zealand Falls Hut, which offers spectacular foliage views of Zealand Notch and a scenic waterfall, take the longer, less-traveled route over the 4,054-foot summit of Mt. Hale.
The White Mountain Guide Online combines expert descriptions of over 500 trails and detailed maps. An annual subscription is $15 for non-members and $12 for AMC members.
For information about AMC's fall deals and packages-including new craft beer tastings with local brewers and local partner promotions, such as free "bike and stay" with Great Glen Trails for Joe Dodge Lodge guests and discounted zipline canopy tours at Bretton Woods for Highland Lodge guests-visit www.outdoors.org/fallguide or call (603) 466-2727 for reservations.
Founded in 1876, the Appalachian Mountain Club is America's oldest conservation and recreation organization. With more than 100,000 members, advocates, and supporters in the Northeast and beyond, the nonprofit AMC promotes the protection, enjoyment, and understanding of the mountains, forests, waters, and trails of the Appalachian region. The AMC supports natural resource conservation while encouraging responsible recreation, based on the philosophy that successful, long-term conservation depends upon first-hand enjoyment of the natural environment.