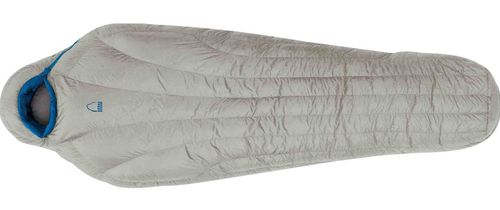 Vancouver, BC September 13th, 2011 – Insotect Ltd. is pleased to announce that the company's Insotect Flow insulation system will be officially adopted by Sierra Designs within their new ultra-light Cloud 15 sleeping bag.
The adoption of Insotect Flow by Sierra Designs reflects Insotect's growing presence as a major ingredient brand in today's outdoor gear. Insotect Flow has quickly gained broad adoption as a staple feature within highend sleeping bags. The Cloud 15 is poised to be the lightest 15 degree sleeping bag on the market.
Insotect Flow is an evolution in sleeping bag construction; combining the presence of vertical thermal channels (VTCs) with Insotect's proprietary FlowGates™. By utilizing vertical channels instead of horizontal ones, the number of total channels is decreased and thus overall material weight is reduced. The vertical orientation helps facilitate heat distribution more readily from head to toe which is an advantage over traditional side to side horizontal channels. The FlowGates are placed along the vertical thermal channels to hold the down insulation in place, minimizing down-shifting.
"We are extremely pleased to be working with Sierra Designs on a bag of this caliber. Insotect Flow provides an exciting opportunity for both companies to collaborate on bringing a great product like the Cloud 15 to market." – Irvin Vale Akopov, Insotect Brand Manager.
For more information on Insotect Flow please visit http://www.insotect.com.
About Sierra Designs
Founded in 1965 at the beginning of the golden age of backpacking and climbing, Sierra Designs draws on an extensive heritage to create innovative, technologically-advanced outdoor equipment to compliment any active, outdoor lifestyle. With years of experience designing best in class tents, sleeping bags, apparel, packs and gloves, Sierra Designs has been to every corner of the world, from the highest peaks in the Himalaya to the campground down the road. Whether you're an ultralight hiker, world-class mountaineer, or recreational camper, Sierra Designs has you covered.
About Insotect
Insotect is the originator of the ground-breaking insulation system concept that has become one of the most significant drivers of performance for sleeping bags in the outdoor gear industry. The company delivers forwardthinking innovation directly related to improved performance and comfort for outdoor gear. Insotect's insulation systems and technologies have been adopted by leading industry brands such as Marmot, EMS, Big Agnes, Montbell, and others. Insotect is widely recognized by the industry as the world's leading solution provider and innovator of outdoor comfort technology. For more information please visit: www.insotect.com.