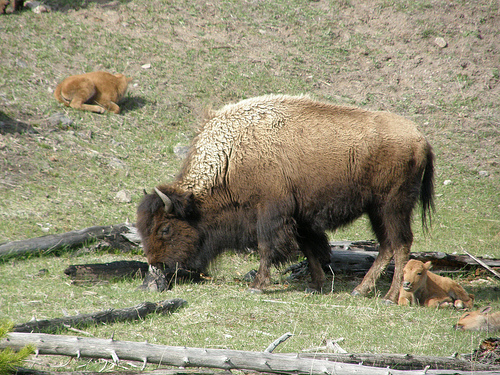 CUSTER, S.D. – A one-of-a-kind western weekend awaits you at the annual Custer State Park Buffalo Roundup and Arts Festival Sept. 24 through 26.
The Buffalo Roundup begins at 9:30 a.m. on Monday, Sept. 26, near the corrals along the Wildlife Loop Road. The parking areas open at 6:15 a.m. MDT and close at 9 a.m. MDT. For safety reasons, spectators are asked to remain in the viewing areas until all the buffalo are corralled, around noon. The public is then invited to take free shuttles into the corral area where testing, branding and sorting of the buffalo will begin at 1 p.m. MDT in preparation for the Nov. 19 auction. Food and arts and crafts booths will also be available near the corrals on Monday.
"The Buffalo Roundup brings over 10,000 spectators to Custer State Park to see the park's herd of 1,300 buffalo," said Craig Pugsley, Custer State Park visitor services manager. "In addition, the weekend arts festival features lots of entertainment and activities as well as over 100 arts and craft exhibitors, including western and Native American artwork and a number of food vendors."
To alleviate traffic problems, spectators will need to decide upon the viewing/parking area they plan to watch the roundup from prior to Monday morning. Visitors who want to watch from the North viewing area should travel down the Wildlife Loop Road from the State Game Lodge side. Those wishing to view from the South viewing area should travel down the Wildlife Loop Road from the Blue Bell side.
In addition to Monday's Buffalo Roundup, Custer State Park will host a weekend of entertainment, craft and art booths and fun for the entire family at its annual Arts Festival on Saturday and Sunday, Sept. 24 and 25. Both days start at 8 a.m. MDT with a pancake feed, entertainment kicks off at 8:30 a.m. MDT, and the arts and crafts booths will be open from 9 a.m. to 5 p.m. The Arts Festival takes place near the State Game Lodge.
There is no cost to attend the Buffalo Roundup or Arts Festival. A South Dakota state park entrance license is required to enter the park on Saturday and Sunday. A park entrance license is not required on the Monday of the Buffalo Roundup.
To learn more about the roundup and arts festival or to request a brochure, contact Custer State Park at 605-255-4515 or e-mail [email protected] More information can also be found online at www.custerstate.park.com.