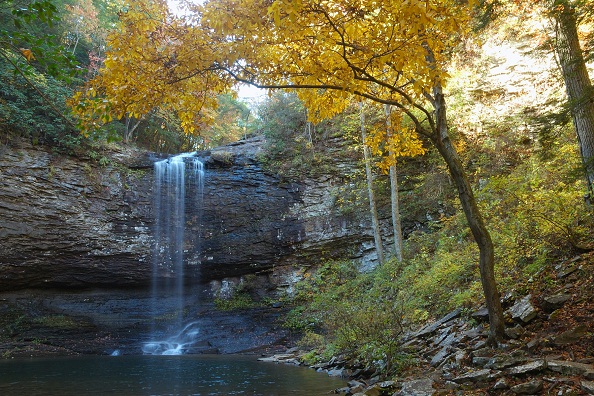 Atlanta, Ga September 12, 2011 – Every October, Georgia's forests transform into a brilliant blanket of red, orange and gold, inspiring leaf peepers to pull out their cameras and lace up their hiking boots. To help track the changing leaves and plan autumn escapes, Georgia's State Parks will launch Leaf Watch 2011 beginning October 1 at www.GeorgiaStateParks.org.
Whether traveling to the Appalachian Mountains for hiking, or heading south for paddling, travelers can check Leaf Watch 2011 for advice on where and when to find the best color in Georgia's state parks. They can read updates from park rangers, get safety tips for hiking, and browse event calendars. Last-minute availability for campsites, cabins and lodge rooms in the state parks will also be posted, in addition to a Webcam showcasing the mountainside of Black Rock Mountain State Park near Dillard.
Typically, northern Georgia peaks in late October; however, color can be seen as early as September and as late as mid-November. Some parks in southern Georgia put on a pretty display during late autumn, particularly those with cypress trees and tea-colored swamps such as George L. Smith State Park.
"Fall is a great time to get outdoors and enjoy Mother Nature's handiwork," said State Parks Director Becky Kelley. "We have short nature trails that are great for kids, and longer trails that are perfect for backpackers. We even have roadside overlooks, so come on out and enjoy our great state parks this autumn."
Some of the most popular spots for leaf watching include Amicalola Falls, Black Rock Mountain, Cloudland Canyon, Tallulah Gorge, Unicoi and Vogel. For quieter getaways, visitors may want to explore parks further south, which can be just as vibrant. Georgia's newest state park, Chattahoochee Bend, features thick hardwoods reflecting off the winding river. Beautiful maples and oaks can be found on the Pine Mountain Trail at F.D. Roosevelt State Park.
Georgia State Parks' slogan is "Get out. Get dirty. Get fit." – emphasizing that parks provide an affordable way for citizens to lead healthy lifestyles in the great outdoors. Climbing into a canyon or trekking along a waterfall is a great way to burn calories while soaking up the scenery. Several state parks host guided hikes that are guaranteed to get visitors' heart rates pumping. For outdoor exercise ideas, visit www.TonsofFun.org.
Georgia has nearly 50 state parks, providing affordable "staycations" to residents and a not-so-far-away mountain escapes for Floridians. Park rangers advise guests to make reservations as soon as possible. It is not uncommon for cabins to be reserved 11 months in advance, and many campgrounds fill up early on pretty weekends. Reservations can be made by calling 1-800-864-7275 or by going online at www.GeorgiaStateParks.org.