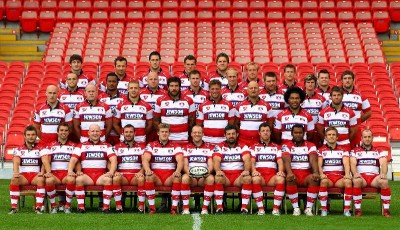 New York, N.Y. Sept. 12, 2011 – CW-X Conditioning Wear (cw-x.com), in conjunction with its UK distributor Big Bear Sports, has announced a partnership with Gloucester Rugby – a top tier professional English rugby team dating back to 1874. The agreement will see the performance wear company become the Official Support and Recovery partner of the club. The deal is set to run for the next two rugby seasons with an option to extend at the end of that period.
CW-X Conditioning Wear garments are designed to make the body a more well-oiled machine. They provide pre-, peak-, and post-performance support to the anatomy. The squad will use CW-X Conditioning Wear products in training to protect and support their bodies, to minimize energy expenditure, and help with faster recovery after the game.
John L.A. Wilson, president and COO of the Wacoal Sports Science Corporation, makers of CW-X, commented:
"This is an exciting venture for CW-X. Following a successful UK launch last year, we are keen to raise its profile by aligning ourselves with key partners. Gloucester Rugby is an obvious choice, a winning squad with a strong ethos and performance ethic, they recognized immediately the advantages CW-X Conditioning Wear could bring to the team's performance. This partnership will help to expand our business, particularly across Europe and, most importantly, drive an increase in brand awareness across the UK."
Barny Allen, the head of strength and conditioning at Gloucester Rugby added: "We are delighted to be working with CW-X Conditioning Wear. When it comes to providing sports performance wear for the team, it's imperative that we have partnerships that add real value. As soon as the players tried CW-X they noticed a marked improvement in performance and recovery. It is an excellent partnership for the club and we look forward to working with the brand in the years to come."
Two key products for the squad this season will be the Stabilyx Tights and Pro Tights, which the team will use in both training and recovery.
The team competed in the European Heineken Cup and finished third in the Aviva Premiership League last season. Last year they also won the prestigious LV Cup, an English and Welsh rugby union knock-out cup competition featuring the 12 Aviva Premiership clubs and four Welsh Regions.
Gloucester Rugby features 2003 Rugby World Cup winner and current England Team member and captain, Mike Tindall, along with six other Gloucester players who are competing in the upcoming 2011 Rugby World Cup for their respective countries.
About Wacoal Sports Science and CW-X
Wacoal Sports Science has been issued over 50 patents for CW-X technology worldwide. CW-X has been extensively tested and proven in competition by Olympians, Tour de France cyclists, successful Mt. Everest expeditions, and professional baseball, football, soccer, and rugby players.
Wacoal Sports Science Corp. is a wholly owned subsidiary of Japan's Wacoal Corp. (NASDAQ: WACLY), one of the world's largest manufacturers of intimate apparel. It is headquartered in New York City at 136 Madison Avenue. For more information: 212 743 9662; [email protected]; www.cw-x.com.