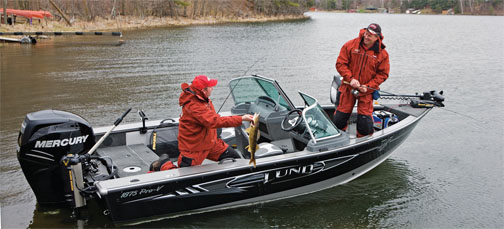 New York Mills, Minn.  Sept. 7, 2011 – "V"isionary • a person or entity of unusually keen ideas and insights; one who can envision the future. It is almost as if Noah Webster had a premonition about Lund Boats' conception in 1948.
Back when visionary boat maker Lund engineered its first Pro-Vs, the idea for a true hardcore fishing boat scarcely existed. Models such as the classic and revolutionary Gary Roach Edition Pro-V immediately became the boat that fueled the dreams of competitive, ardent and casual anglers. Every in-the-know angler wanted one. And every other manufacturer endeavored to copy one. Decades and thousands of happy Pro-V owners later, the Pro-V's aspiration status endures.
Now, answering overwhelming angler demand, Lund takes the covers off two prestigious new editions. The 1875 SE / IFS and 1775 SE / IFS are going to be one of the most sought after boats in Lund history. "Serious anglers will love everything these boats have to offer," says Lund Design Engineer Rory Wiebe. "These are true fishing machines in smaller 17- and 18-foot packages. Big water to small lakes, these boats can handle it all."
Adds Engineering Manager Paul Zarn, a Veteran, Visionary boat designer: "These new Pro-Vs are built using our time-tested 'longitudinal stringer system' for incredible strength and durability. When bolting these stringers to the transom, we control our running surface down to thousands of an inch. This, along with our IPS hull design, provides unparalleled on-the-water performance."
Pro-V equals Value. So much boat for the money; so many fishable features—that's what the new Pro-V 1875 SE/IFS and 1775 SE/IFS are all about. These walleye vessels offer fishing-friendly layouts, optional rear flip seat/casting platform, enormous storage, generous tackle and rod space and the newly designed driver and passenger consoles.
Pro-V equals Verve and Vigor. Thanks to swimming pool-sized livewells refreshed by the Max-Air system, as well as optional aerated baitwells, both your catch and your livebait retain maximum health and, yes, verve and vigor. Of course, the same could be said for the boats themselves. "Just like their bigger brothers," says Wiebe, "the new Pro-Vs are built on heavy-duty, high performance IPS2 hulls. They power across the surface with minimal motor strain, providing a supremely smooth, dry ride." While Lund's 'no-feedback' cable steering feature assures effortless control. Both the ProLong livewell and IPS2 hull systems remain the envy of the marine industry.
Pro-V equals Victory. Since the very inception of walleye tournaments, Lund boats and the anglers who fish from them have dominated the competitive scene. Lund is one of the all-time, top money-winning boats in walleye tournament history.
"I still remember when my uncle first pulled into our driveway towing his namesake Pro-V," says professional guide and lifelong "Lund Gun" Tony Roach. "It took all of about 2 seconds before I knew that this was the boat I wanted to own one day. The new 1875 and 1775 offer the best of all possible worlds—perfect for small and big waters, and for the everyday angler as well as the weekend tournament guy."
Pro-V equals Versatility. Although Pro-V has forever dominated the walleye scene, the boats cater to any species you chase. From casting for bass and muskies to anchoring for crappies and trolling for trout and salmon, the new Pro-Vs provide the ultimate fishing experience. Lund's SportTrak™ System allows for ultra-customization, securing rod holders, cup holders, electronics and other accessories without drilling holes in your boat. The patented ProTrak™ Boat Covering System features a custom cover and special adjustable snaps that provide the ultimate weather-tight fit. And with optional aft flip-up seating, you can even extend your rear casting deck by precious square feet.
"Lund Legend" Tom Neustrom summarizes the Pro-V advantage: "For as long as I can remember, Lund has been the brand trusted by the best anglers. And Pro-V is the elite of the elite. You pretty much either own one, or wish you did. Fishing from and running one of these boats is just an awesome experience."
The high-performance 1875 SE/IFS and 1775 SE/IFS Lund Pro-Vs are manufactured in both a side-console (SE) and a full windshield (IFS) version. To see the extensive list of Pro-V features and options, visit lundboats.com, or stop by your local Lund dealer.
To learn more about Lund or to view product videos, visit: www.lundboats.com.