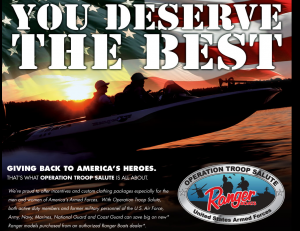 Flippin, Ark. September 7, 2011 – Current and former military personnel wishing to live the boating lifestyle can double up on sales incentives through Ranger Boats' "Operation Troop Salute," thanks to a matching offer from Evinrude Outboards.
For purchases of qualifying Ranger boats powered by Evinrude outboards made from an authorized dealer between August 1 and October 31, 2011, any current or former member of the U.S. Armed Forces is eligible for a deluxe incentive package. The incentive package includes a factory rebate of $2 per engine horsepower from Ranger, plus a matching $2-per-engine-horsepower incentive from Evinrude for buyers of Evinrude-powered boats.
The "Operation Troop Salute" incentive package also includes $100 RangerWear clothing and accessories coupon card plus an exclusive military appreciation jacket, t-shirt and decals. To be eligible, customers must either be currently serving, retired from or have previous service in the United States Armed Forces. Qualifying boats include any new Ranger boat, motor and trailer package that has not been previously registered; and the program is not limited to the current model year.
For more details on "Operation Troop Salute" or to see the 2011 Ranger models, contact a local Ranger Boats dealer or visit www.rangerboats.com
About Ranger Boats
Headquartered in Flippin, Ark., Ranger Boats is the nation's largest manufacturer of premium fiberglass fishing boats, which include series of bass, multi-species, fish 'n play and saltwater boats. Originally founded in 1968 by Forrest L. Wood, Ranger Boats continues its commitment to building the highest-quality, strongest-performing boats on the water. For more information, go to RangerBoats.com.