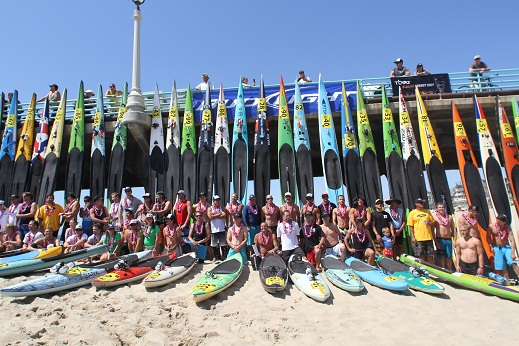 Manhattan Beach, August 30, 2011 – Hundreds of spectators, family and friends cheered from the beach and the Manhattan Beach Pier as Dr. Brad Thomas, MD claimed Sunday's 36th Catalina Classic Paddleboard Championship presented by Body Glove with a time of 5:22:17. Having missed last year's race due to injure Dr. Brad of Redondo Beach was a favorite this year and fended off Hawaii's Brian Rocheleau; capping off a year that included his win at the US Paddleboard Championships in July. Thomas was continuously challenged by a tough pack of paddlers including Australian Paddling Legend Michael Porra, previous runner-up Kyle Power, and San Diego's George Plesek, but was able to hold on to the lead the entire race.
Eric Abbott of Hawaii battled closely with eventual 3rd place finisher Jack Bark but later prevailed in the Stock class with a winning time of 6:21:55. Just 3 minutes behind Abbott was fellow Hawaiian Bert Charlton. Abbott enters an elite class of paddlers to win both the Molokai to Oahu Paddle and the Catalina Classic in the same year including Jamie Mitchell, Keoni Watson, and Tim Gair.
Jo Ambrosi continued her dominance as the first female finisher with a narrow 30 second victory over DJ O'Brien with a winning time of 7:01:34.
In a Classic first, a 12 paddler team comprised of members of the Wounded Warrior Battalion, celebrities and members of The Jimmy Miller Memorial Foundation relayed the 32-mile race to raise money for The Jimmy Miller Memorial Foundation Ocean Therapy Program.
The 2011 Catalina Classic wouldn't happen without the generous support of its volunteers and sponsors. Body Glove,
Maui Jim Sunglasses, Honolua Surf Co., DaKine, Joe Bark Paddleboards, Vertra and Bud Light proudly supported this year's Classic, which was characterized by westerly winds, two pack separating container ships, and a tight group from start to finish. A total of 79 paddlers finished the notoriously grueling race. Full results are available online on Facebook, joebarkpaddleboards.com, and eatonsurf.com.
In keeping with tradition, the Catalina Classic is proud to support the following charities with monetary donations toward furthering their educational causes including: The Jimmy Miller Memorial Foundation, ALS, Ocean of Hope, Marine Animal Rescue, the LA County Jr. Lifeguard Program and the Manhattan Beach Pier Roundhouse Aquarium.
The Catalina Classic Paddleboard Association, Inc. is dedicated to preserving the Catalina Classic 32-mile paddleboard race for the watermen and women who carry on the race tradition each August. Los Angeles County Lifeguard Bob Hogan founded the race in 1955. After a twenty-one year hiatus, the Catalina Classic was resurrected in 1982 by Lifeguards Gibby Gibson and Buddy Bohn.
The Catalina Classic is the oldest and most celebrated endurance paddleboard race in the world. For more information please contact Kyle Daniels at [email protected] or find us on the web at www.catalinaclassicpaddleboardrace.org.