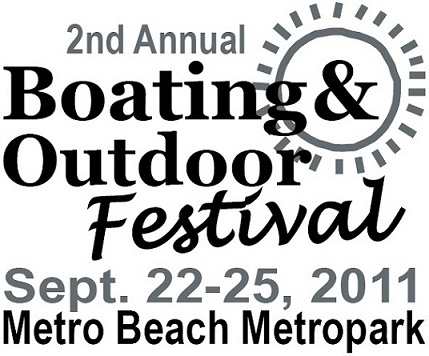 Livonia, Mich., September 1, 2011 – With three weeks left until the Boating & Outdoor Festival, Sept. 22-25 at Metro Beach Metropark, the number of exhibitors and space sales have surpassed 2010's first annual event.
"The positive experience MBIA created last year, has encouraged past exhibitors to sign up earlier and new exhibitors to join the successful event," said Neil Williams, director of exhibit sales for the Michigan Boating Industries Association, "Many exhibitors have increased their footprint and are bringing in more products." For an up-to-date listing of Exhibitors, visit boatingandoutdoorfest.com.
More boats and products will be represented with this increase in sales. More than 100 exhibitors and more than 350 boats on-land and in-water will be displayed. There are nearly 1 million registered boaters in Michigan, a $3.9 billion industry – the Festival is in the heart of a powerful boating market.
Also look for an increase in diversity of products, as specialty sections have been added, including waterfront living, fishing village and fine art. Other areas include ATVs, snowmobiles and more outdoor recreation exhibits. BRP will host their "Ultimate Playground," a demo riding experience, at Metro Beach surrounding the Festival. Pre-registration is required. Visit boatingandoutdoorfest.com for a link to register.
The festival will also feature a large Tiki Bar with live music playing the duration of the show featuring Jimmy Buffet-style, country and rock music. Three Harrison Township local restaurants, along with the Metropark's Advantage foods will provide a delicious food court for attendees.
The Boating & Outdoor Festival is much more than a boat show, with performances by Duma the waterskiing dog, appearances by Nickelodeon's Dora the Explorer and many more promotions and contests. "Families can come spend the day, this Festival is full of fun for all ages," said John Ropp, show manager.
Sponsors for the festival include BRP, Jack Links Jerky Tour, Don Gooley Cadillac, Fishbone's Restaurant, and Labatt Beer.
The Boating & Outdoor Recreation Festival is produced by the Michigan Boating Industries Association (MBIA). The festival, located at Metro Beach Metropark, will be held September 22-25. Hours: Thurs., Fri.: Noon – 8PM, Sat.: 11AM – 8PM and Sun.: 11AM – 6 PM. For more information, current promotions and contest information, visit BoatingandOutdoorFest.com. Admission: $9 for adults, children 12 and under free with an adult. Discount tickets available on boatingandoutdoorfest.com. A Metroparks vehicle entry permit is required to enter any Metropark for only $25 annually for regular admission, $15 annually for seniors, or $5 daily. General park information can be found at www.metroparks.com or by calling 1-800-47-PARKS.
MBIA is a non-profit Association dedicated to the advancement, protection and promotion of the recreational boating industry in Michigan, representing nearly 300 marine businesses. The boating industry in Michigan represents a $3.9 billion industry, with more than 758 marinas, 460 marine dealers and more than 51,000 jobs. For more information go to www.mbia.org.