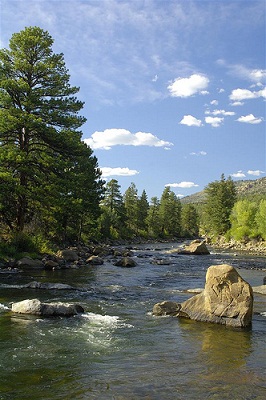 Salida, Colo. – Flows on the Arkansas River within the Arkansas Headwaters Recreation Area (AHRA) are subsiding to late summer levels, but the river still has plenty of great water for visitors interested in boating and angling adventures in the beautiful Colorado sunshine in one of the nation's premier recreation areas.
Individuals and families alike will enjoy Bighorn Sheep Canyon where one can still find mild to moderate whitewater experiences. And, the fishing at this time of the year is simply fantastic! In addition, kayakers will find the upper river stretches, such as the Numbers, both challenging and fun for an end-of-the-year excursion. Browns Canyon offers unbeatable scenery for boaters, anglers and those who enjoy a less crowded camping experience during this time of the year.
You will discover that it is never too late to enjoy the Arkansas River's gentle flows for an end of season get-away beneath towering mountains and impressive canyon walls. AHRA's campgrounds are all open for an autumn outing for the entire family – think campfires, marshmallows and crisp mountain air. Call AHRA at (719) 539-7289 for more information or visit AHRA's outfitter list to find both angling and rafting opportunities at: www.parks.state.co.us/Parks/ArkansasHeadwaters/RiverOutfitters.
The AHRA is managed through a cooperative effort between the Bureau of Land Management and Colorado Parks and Wildlife. Formed in 1989, this partnership allows agencies to provide visitors with recreation opportunities and care for significant natural resources of the Upper Arkansas River Valley.
Colorado Parks and Wildlife gets everyone outdoors! Attracting more than 12 million visitors per year, Colorado's 42 State Parks are a vital cornerstone of Colorado's economy and quality of life. Colorado State Parks encompass 224,447 land and water acres, offering some of the best outdoor recreation destinations in the state. Colorado Parks and Wildlife is a leader in providing opportunities for outdoor recreation, protecting the state's favorite landscapes, teaching generations about nature and partnering with communities. Colorado State Parks also manage more than 4,300 campsites, and 63 cabins and yurts. For more information on Colorado State Parks or to purchase an annual pass online, visit www.parks.state.co.us.