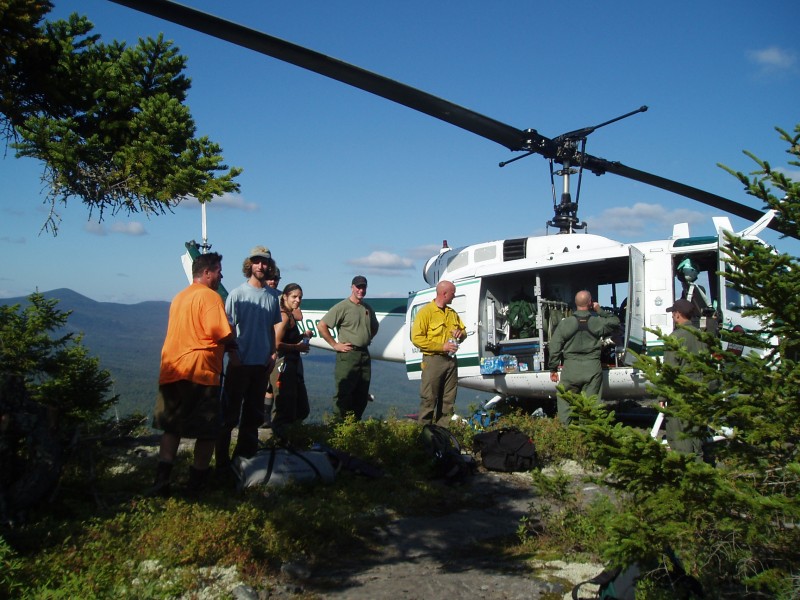 Several state agencies and organizations responded to a 911 call today, identifying a severely injured hiker on the A.T. The 6-hour successful rescue effort is outlined below, as reported by Maine Warden Service Lt. Kevin Adam and Ranger Sergeant Bruce Reed.
Maine Game Wardens Dan Carroll and Glenn Annis responded to the Appalachian Trail in T7 R9 NWP in Piscataquis County. A call was received at approximately 10:00 am this morning reporting that John Abbot, age 63 (dob 5-9-48) from Cleveland, Ohio had severely broken his ankle near the West Chairback Lean-to.
Mr. Abbot started on April 1 at the beginning of the Appalachian Trail in Georgia and was looking to through hike or finish the whole trail until he broke his ankle this morning. He luckily had cell phone reception and was able to call his wife who alerted Maine authorities that her husband was injured on the trail. Mr. Abbot had a GPS with him and was able to give his position to his wife.
West Chairback Lean-to is about 12 miles northeast of Greenville near West Chairback Pond and in between Chairback and Columbus Mountains.
Wardens Annis and Carroll responded to the area and also received assistance from the Appalachian Mountain Club which has a cabin on Long Pond near West Chairback.
The Department of Conservation's Maine Forest Service helicopter pilots were contacted to determine if a landing zone could be found nearby and a shorter evacuation route could be located than the approximately 1.5 mile hike from the nearest access point. The Maine Forest Service was doing training with a Ranger Helitack team in Old Town and responded to the area. Helicopter Pilots Chris Blackie and Lincoln Mazzei were first able to land and talk with some other hikers who had passed Mr. Abbot and obtain specific information, enabling them to drop several rangers about .4 tenths of a mile north from Mr. Abbot's location. Wardens and Rangers were able to get to Mr. Abbot around 2:30 this afternoon.
Ranger Thomas Liba was dropped off initially and made the contacts with the hikers for information. The additional members were then dropped off at the chosen site and a helispot was constructed. Due to the terrain the pilots were unable to shut down so the patient was loaded while the pilots maintained control of the aircraft.
Rangers Thomas Liba and Ben Goodwin constructed the helispot then assisted Ranger Mike McGary and a paramedic with the patient.
A paramedic from Old Town who flew in with the Maine Forest Service helicopter decided to bring Mr. Abbot straight to EMMC in Bangor for medical treatment. They landed at the Bangor airport at approximately 4:45 this afternoon. It has been reported that Mr. Abbot is suffering from a severely broken ankle with no other serious injuries.
The ability of the Maine Forest Service pilots to be able to land near the injured hiker's location saved the rescue mission about 5 hours of a hard carry out to a ambulance and then another one hour trip to get to the nearest hospital. A carry out from that location would have been very difficult due to the terrain in that area.
Mr. Abbot had about 70 miles left to do in the 2,175 mile trail.
The other rescuers were travelling back south on the trail, approximately 2 miles now from the evacuation site, to their vehicles as of 5:15 this evening.