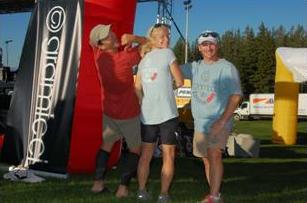 AGOURA HILLS, Calif., September 1, 2011 — Gramicci, the legendary climbing apparel brand with NPT- Natural Performance Technology ™ and title sponsor for the Expedition Idaho© 2011 Adventure Race announces Team Thule as the official event winner.  Gramicci outfitted event staff and all participant teams for the week of extreme endurance.
Thule captured the title, crossing the finish line in 146 hours, 15 minutes, claiming each of the 120 CPs over the 500+ mile course that had more than 130,000 vertical feet of climbing.
As reported form the official EXPED Idaho web site, http://www.xydo.com/toolbar/27426630-expedition_idaho_update Jacky Boisset, Mryiam, "Mimi" Guillot, Stuart Lynch and Albert Roca led from start to finish in one of the most amazing AR and navigation displays in recent memory, edging out Nathan Fa'ave's Team Seagate by over 8 hours.
US-based "Team Bones," led by captain Roy Malone was 3rd, fending off strong challenges from Team Light & Motion and Team Gear Junkie/Yogaslackers, despite GJYS having to race without Chelsea Gribbon-Magness, who came down with a gall stone attack on the first day. http://gearjunkie.com/expedition-idaho-race-2011-report-and-video
Team Gramicci also lost a teammate, as Paulette Kirby fell on Segment 3 – "Big" – and was airlifted to safety. They continued on through a number of other difficulties, and were one of only 7 teams to finish the first four segments completely."
"Expedition Idaho is much more about the journey and the expedition than the pure race results," said Race Director, Dave Adlard. "Even though GJYS were without Chelsea, they never slowed down, and raced their butts off, and as they were one of only 5 teams to make it to the final segment, we decided they deserved to be ranked as "4A" for their efforts, just behind Team LiM, who waged a great head-to-head battle over the final few days."
The final CPT rankings for points would be as follows: (this is with all 4 person teams ranked ahead of three person, and all CPs being of equal value)
• Thule
• Seagate
• Bones
• Light in Motion
• SOG
• Team Florida Xtreme
• NYARA
• Gung Ho
• Topo Adventure Sports
• Team Idaho
• Team Gear Junkie Yogaslackers (3 person)
• Team Gramicci (3 person)
• Train Chicago Studios (3 person)
Because of the unique Expedition Idaho format, every team, including "Sport course" teams all gathered at the Dark Zone on Friday night, and participated in the "Mad Dash" final victory lap to the mountain top finish in the midst of the "Brews, Booze and Blues" fest hosted by Silver Mountain Resort. The finish line was directly beside the stage, and the athletes finished in the midst of over 1800 happy, appreciate and enthusiastic fans, who showered all the finishers with standing ovations, high fives and opportune glasses of beer.
About the Race:
Co-ed teams of 4 covered over 800K (500 miles) at Expedition Idaho 2011 in nearly 7 non-stop days of racing, and after it's inaugural running, EXPID was hailed as one of the best expedition-length races in many years, with racers lauding the organization, course design and scenery and the awesome volunteers as some of the best ever. It began and finished at Silver Mountain Resort in Kellogg, Idaho. Racers used map, compass and their own wits and skills to navigate their way over an unmarked route by mountain biking, rafting, paddling, trekking, orienteering, trail running, using fixed ropes, and all through the wild panhandle of northern Idaho. The exact course and specifics of each leg were not given to the teams until the night before the race. The 2012 edition is scheduled for August 12 – 18, 2012, once again at Silver Mountain.