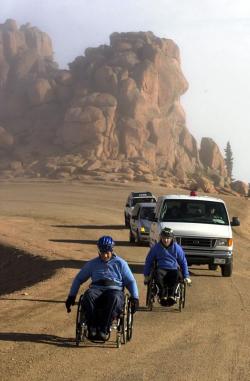 This week, Outdoors Radio with Dan Small features wheelchair athlete Dr. Glen House; USDA veterinarian Janet Whaley; Ozaukee County, Wisconsin Planning and Parks director Andrew Struck and Dwyer Marine pro-staffer Duffy Kopf. Dan visits the new Forge Bow Pro Shop and Jeff nearly lands a 40-lb. catfish on four-lb. test line!
Dr. Glen House, M.D., radio show host and medical director of Penrose Hospital's Center for Neuro and Trauma Rehabilitation in Colorado Springs, CO, tells how he adjusted to a serious skiing injury and plans to climb Pikes Peak in a wheelchair for the third time on Sept. 10 (www.healthradio.net)
Dr. Janet Whaley, a veterinarian with the USDA Animal and Plant Health Inspection Services, explains the USDA Focus on Fish Health campaign and urges boaters and anglers to avoid spreading aquatic exotic species to new waters. (www.focusonfishhealth.org)
Andrew Struck, director of Planning and Parks for Ozaukee County, Wisconsin, talks about his county's $5 million fish passage restoration in the Milwaukee River watershed. (http://www.co.ozaukee.wi.us/planningparks/PlanningParks_Fish_Passage.htm)
In the Madison Outdoors Report, Dwyer Marine pro-staffer Duffy Kopf calls in from Estes Park, CO to let us know the elk there are thriving and fishing is starting to pick up back in Madison, where Dwyer Marine has a closeout on 2011 model G-3 boats. (www.dwyermarine.com)
To enter this week's drawing for a Droptine Divas DVD (www.workinforwhitetails.com) , featuring 12 fair-chase whitetail hunts on private land in Wisconsin, call 414-297-7554 and leave your name and telephone number, or email us at [email protected].
Outdoors Radio airs each weekend on 11 stations throughout Wisconsin. See a list of stations, listen to the current show or an archived show or subscribe to the weekly e-newsletter or podcast at http://www.lake-link.com/radio. Outdoors Radio is also streamed twice daily at 12 p.m. and 5 p.m. PDT athttp://www.theradiofactory.com. Read the Outdoors Radio e-newsletter each week athttp://www.dansmalloutdoors.com.