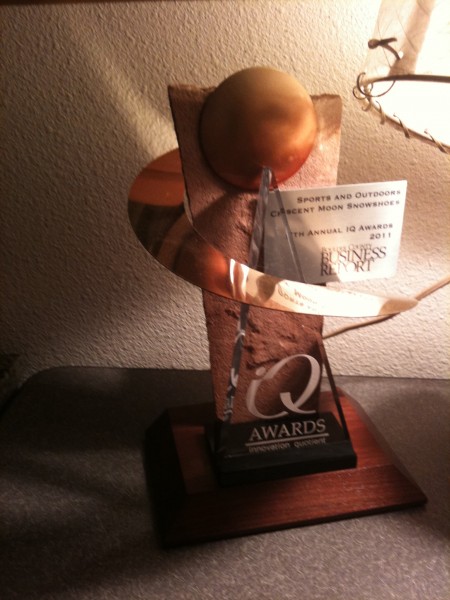 Boulder, CO – The Boulder County Business Report (BCBR) announced the 32 finalists for its annual Innovation Quotient (IQ) Awards and Crescent Moon Snowshoes was selected as a finalist for its snowshoe binding called the SPL binding system under the category of sports and outdoor products.
The 10 most-innovative companies will be announced live at BCBR's twelfth annual IQ Awards for innovation on Wednesday, Aug. 24, 2011.
"It's great to receive recognition from one of the greatest entrepreneurial communities in the world", said Jake Thamm, President of Crescent Moon, commenting about BCBR's IQ award. "We're honored to be considered among all these outstanding companies."
This year, BCBR received nearly 60 nominations from companies in the Boulder Valley and selected three finalists in each of 10 business categories. The finalists, along with their nomination categories follow:
Green/Sustainability
OPX Biotechnologies Inc., Boulder
Green Garage, Boulder
Noonday Solar Inc., Boulder
Social Media / Mobile Apps
Backpacker Magazine, Boulder
BlogFrog Inc., Boulder
Gnip Inc., Boulder
Nonprofits
Boulder Shelter for the Homeless, Boulder
Center for Resource Conservation – ReSource Tool Library, Boulder
Safehouse Progressive Alliance for Nonviolence, Boulder
Software
Accurence Inc., Westminster
Gorilla Logic, Broomfield
Red Earth Software Inc., Boulder
Natural Products
Cooper Tea Co., Louisville
JJ's Sweets, Boulder
Justin's Nut Butter, Boulder
Sports & Outdoors
Crescent Moon Snowshoes, Boulder
Sea to Summit Inc., Boulder
Salewa USA LLC dba Dynafit, Boulder
Consumer
Agloves, Boulder
Backjoy, Boulder
WINGStand.com, Boulder
Internet / Web
EarthvisionZ LLC, Boulder
Standing Cloud Inc., Boulder
Widgix LLC dba Survey Gizmo, Boulder
Innovation Accelerator
Boulder Innovation Center, Boulder
Longmont Entrepreneurial Network, Longmont
Business Products & Services
iSupportU LLC, Boulder
Napkin Labs Inc., Boulder
Radish Systems LLC, Boulder
Crescent Moon Snowshoes, Sports and Outdoors
"Innovation in the Boulder Valley is stronger and more exciting than it's ever been," said Christopher Wood, publisher of the Boulder County Business Report. "We are extremely pleased to once again honor the most-innovative products and services in Boulder and Broomfield counties. Our judges spent many hours reviewing all the nominations, and we feel that they've come up with an incredible list of finalists."
For more information on Boulder County Business Report's IQ awards, go to www.IQawards.com.
About Crescent Moon Snowshoes
Crescent Moon Snowshoes has been recognized for its innovative designs and products in the snowshoe category since it began in 1997. All of its snowshoes, including those for trail and off-trail conditions for men, women, and kids, are hand-made in their factory located at 5401 Western Ave., Ste. C. in Boulder. For a more complete description of the company's products and other information on the company go to www.crescentmoonsnowshoes.com or call 800-587-7655.