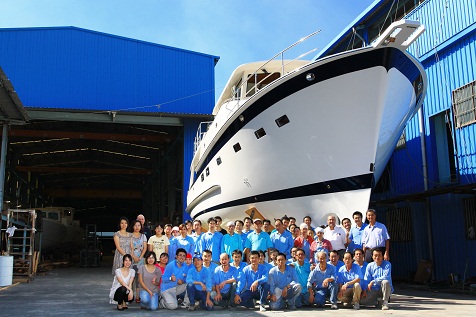 Stuart, FL—Hull number one of the new Krogen 52' departed Asia Harbor Yacht Builders in Kaohsiung, Taiwan on August 22 and is set to make its international debut in the Seattle Boats Afloat Show on Lake Union from September 14-18. The premiere comes just 18 months after the announcement of the new model.
Testimony to the Kadey-Krogen tagline "At Home on Any Sea," this first Krogen 52' has been purchased by a couple who are former professional mariners and graduates of two of our country's most demanding merchant marine universities. The couple previously owned a Krogen 48' North Sea, but immediately fell in love with the Krogen 52' when the design plans of the new model were announced last winter.
Building on the ten-year success of the Krogen 58′, the Krogen 52′ is poised to become the trawler yacht of choice because of her efficiency, comfort underway and her at home liveability. "A 3300 nautical mile range at 7 knots makes a non-stop Atlantic crossing a reality utilizing 25 percent less fuel than other vessels in her size range," says Larry Polster, Vice President of Kadey-Krogen Yachts. Polster continues, "Her pure full-displacement hull form ensures greater comfort at sea than modified or semi-displacement hull forms and Kadey-Krogen's adherence to architectural integrity gives the owner the peace of mind knowing their yacht was built to a specific design and not as a stretched version of another vessel."
At home liveability features include the fully covered aft deck or "back porch," a spacious saloon, a  galley fit for gourmet cooking complete with full-size Jenn-Air® refrigerator and a four burner Viking® range with oven. A weather-tight Dutch door provides direct access to the galley from the starboard side deck. Owners can choose from a three stateroom layout or two staterooms and a dedicated office.
Like all Kadey-Krogens, the Krogen 52' is built using vinylester and isophthalic resins, knytex mats, and US-made Cook® UV-protected gelcoat to protect the vessel's gelcoat. Critical areas of the hull are reinforced with a special impact-resistant fiberglass mat containing Twaron®, the same fiber used to give body armor its "bullet-proof" capability. Twaron is an aramid fiber that is five times stronger than steel and up to 60% lighter than ballistic steel. This strong yet light fiber helps maintain a moderate displacement-to-length ratio that is a signature of Kadey-Krogen engineering and again results in better fuel economy.
Media, Krogen enthusiasts and boat buyers alike are invited to tour the new Krogen 52' at the Seattle Boats Afloat Show where she will debut. The second Krogen 52', which has already been purchased by a current Kadey-Krogen owner, will arrive in time for the Fort Lauderdale Trawler Fest February 2-4.
Kadey-Krogen Yachts Contact:
Krogen 52' Preliminary Specifications
| | |
| --- | --- |
| Length on Deck: | 52'-8" |
| Length Overall: | 57'-9" |
| LWL: | 47'-6" |
| Beam | 17-9" |
| Draft at Keel (half load, single eng): | 5'-5" |
| Displacement (half load): | 70,000 lb approx. |
| Fuel Capacity: | 1400 gal. |
| Water Capacity: | 400 gal. |
| Top Speed (estimated): | 9.5 knots (at Half Load) |
| Cruising Speed (estimated): | 8 knots (at Half Load) |
| Main Engine (single): | John Deere 6068AFM75 M1, Tier 2, 231hp @ 2300RPM |
| Main Engines (twin): | John Deere 4045TFM75 M2, Tier 2, 121hp @ 2500RPM |
| Reduction Gear (single engine): | ZF Marine model ZF286 with 2.917:1 reduction |
| Reduction Gears (twin engine): | ZF Marine model ZF220 with 3:1 reduction |
| Range at 7 knots (w/ 10% reserve): | 3300 nautical miles (single engine) |
| Ballast: | 5300 lb approx. |
| Base Price | $1.320 million |
Hydrostatic Data
| | |
| --- | --- |
| Displacement-to-length ratio | 292 |
| Prismatic coefficient | .61 |
| Pounds per Inch Immersion | 2860 |
| Moment to Trim an Inch | 7500 ft. lbs. |