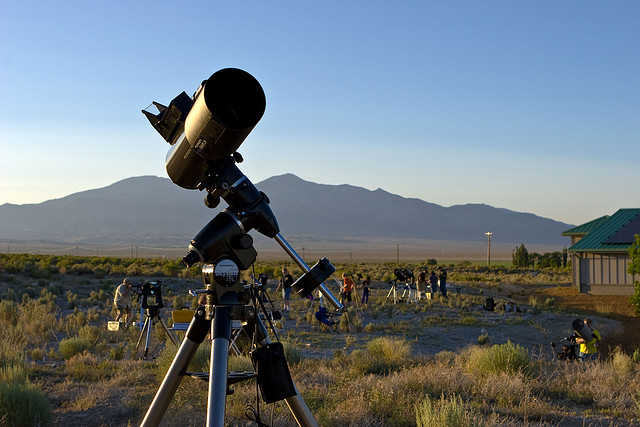 Loma, Colo. – Highline Lake State Park and the Western Colorado Astronomy Club continue the summer Star Party tradition on Labor Day weekend, on Sept. 3. Club members will bring telescopes, videos, and lots of astronomical information to share with all park visitors. Members are enthusiastic and knowledgeable about all things astronomy and answer any and all questions! The amazing, dark night skies over Highline Lake are perfect for viewing countless stars, planets, and maybe even the Milky Way or the space station. Visitors will leave with a sense of wonder and awe of the universe.
Visitors should park in the lots near the visitor center, and meet in the lot nearest the vaults at dusk, around 8:30 p.m. Please bring a comfortable chair or blanket, bug spray, and your enthusiasm for exploring the unknown wonders that only the Western Colorado night sky can offer. The Star Party program is free; but each vehicle that enters the park must display a Colorado State Parks annual pass or $7 daily pass available at the park entrance.
Make the Star Party the end of a wonderful day spent in the outdoors at Highline Lake. The swim beach is still open for the 2011 season. Water temperatures are warm and just right for cooling off on a hot, sunny day. Enjoy a barbeque, a huge variety of water activities or fishing before the stars come out. Stop at the Highline Lake Visitor Center for fishing licenses and worms before you head out to drop that line into the water at Mack Mesa Lake or Highline Lake.
Highline Lake State Park is approximately 10 miles northwest of Fruita. Take I-70 to the Loma exit, right on Highway 139 to Q Road, then follow the signs to the park.
Colorado Parks and Wildlife gets everyone outdoors! Attracting more than 12 million visitors per year, Colorado's 42 State Parks are a vital cornerstone of Colorado's economy and quality of life. Colorado State Parks encompass 224,447 land and water acres, offering some of the best outdoor recreation destinations in the state. Colorado Parks and Wildlife is a leader in providing opportunities for outdoor recreation, protecting the state's favorite landscapes, teaching generations about nature and partnering with communities. Colorado State Parks also manage more than 4,300 campsites, and 63 cabins and yurts. For more information on Colorado State Parks or to purchase an annual pass online, visit www.parks.state.co.us.